It is not the first season that Marc Jacobs, who started his career with a collection of bright jerseys and invented the grunge style, manages to predict what women around the world want to wear – whether these are extra flat shoes, denim jackets in the style of Sergeant Pepper or bags with large silver buckles.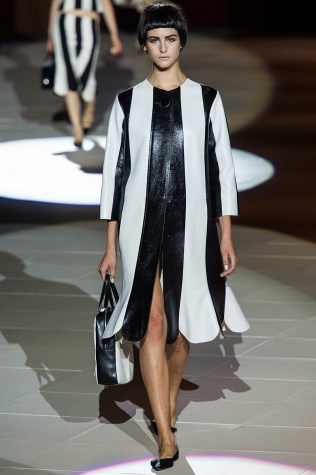 The Spring-Summer 2013 fashion show by Marc Jacobs held in New York City was a real time travel. The designer invited the guests of his show to travel back in the 1960-s, the time of revolution in the history of fashion, when shapeless female androgyny, the cosmic style, and the cult of synthetics became fashionable, when Campbell Soup images on canvases were recklessly sold for many millions of dollars, and the world of fashion was ruled by the hypnotic op art. It is this trend in the U.S. art and fashion that the new collection by Marc Jacobs is dedicated to.
The fashion houses of Prada, Anna Sui, Roberto Cavalli and Alexander McQuuen have already pleased their clients with hypnotic illusions. Marc Jacobs just developed the theme including into the new line of dresses straight tops, skirts, maxi dresses and "pajama pants", painted with large contrasting stripes. The checkerboard is freely combined with goose feet, hypnotic circles and animal prints, also invented in the 1960-s. The art of visual illusions is used by the fashion designer not only for retrospective indulgence, but to appeal to modern fashionistas saying that "Young girls need to learn that sexiness isn't about being naked"!
Marc Jacobs also shows how to conceal any figure flaws using the clothing of uncomplicated minimalist style and a limited palette. Watch Marc Jacobs's fashion show below: