Fergie's bout of childhood reminiscences brought her an exciting dress inspired by a toy – which seems to be the best attire for appearance at the Nickelodeon Kids' Choice Awards!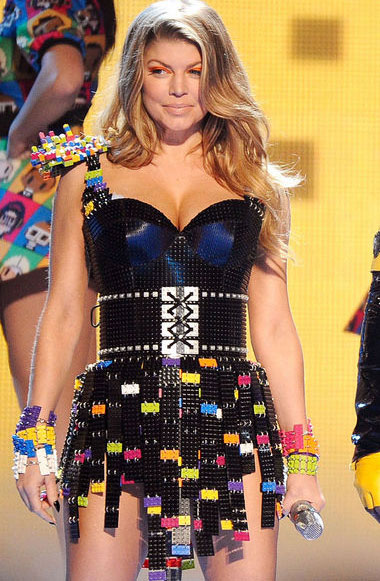 Since the Black Eyed Peas were proclaimed Favorite Music Group, Fergie must have given a good long thought to what she will be wearing. She has hit upon the right idea – instead of hackneyed satin or whatever those grown-ups invariably prefer, she went for colored Lego pieces for material.
So we had the pleasure of seeing the singer in a tight mini-dress all knocked up from black Lego pieces with yellow and green patterns and colored shoulder embellishments that evoke epaulettes with a becoming faintly military touch.
The finishing piece were all-Lego three-layer colored bracelets that went well with the outfit.
Playing games with a dress is not such a bad idea, after all – will Fergie start a Lego clothes line of her own?
Source of the image: Fashionablygeek.