We have long got used to black as the color of elegance! Many women have half a wardrobe of black clothes, and the other half is made up by other practical colors. However, white is perceived cautiously: either too strict, or too solemn, or it does not suit… In fact, you can wear white in any situation, regardless of your figure! How can you combine white effectively?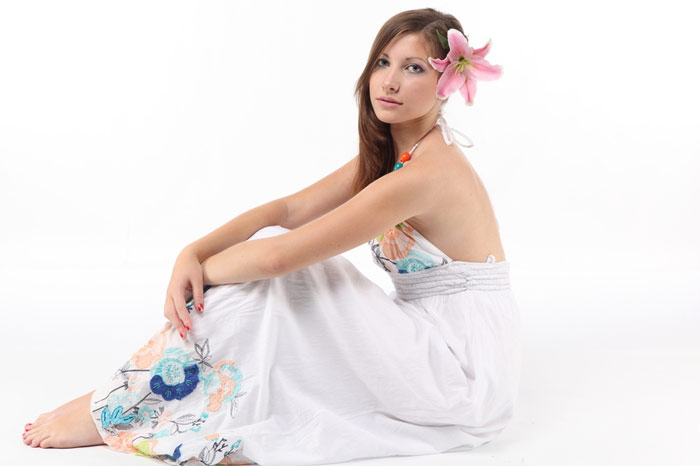 Myths about white clothes
Let's shatter the myths about white clothes.
Plump women can not wear white
There is a grain of truth here. A mismatching item of a wrong style or silhouette can really make you look plumper, while dark colors conceal such flaws. However, this does not mean that you have to give up on white at all! On the contrary, choosing a proper cut, you can make your figure look slim. For example, you can wear a vest with a deep V-neck over a white blouse. A white tube dress with vertical dark insets on the sides will make you look a dozen pounds skinnier. White pants are not a taboo, if you wear a black jacket covering the hips.
Only very young girls can wear a lot of white
Nonsense! White is the only color, which suits everyone from 17​ to 70! How gorgeous it looks with gray hair!
White exacerbates pale complexion, making it dull and plain
In fact, a properly selected tone of white highlights and refreshes your face! If you are still afraid to look pale, wear a bright accessory, such as a necklace or earrings, or apply make-up with a color accent on the eyes or lips – and your white will shine!
In general, there are no reasons to give up white clothing.
How to use white clothes to emphasize body merits?
White has one peculiarity. It draws attention immediately, while dark things are visually hidden. You can use this effect to emphasize body merits and hide flaws.
To narrow the hips visually, put on dark pants or skirt and a white top covering the hip line. The upper part will visually "outweigh" the lower one, and the proportions will be balanced!
If you want to look slimmer and taller, pick up a white blouse (long-sleeve shirt, dress, etc.) with a vertical dark stripe (stripes) running along the entire item. This effect will be especially noticeable if the stripes go along the sides.
You can make your waist slim if you wear a wide black belt over a white blouse or a dress. The looser the cut of the white item is, the better the effect – for example, a flared skirt starting right under the belt.
To lengthen the neck, choose a white jacket with a dark V-neck collar.
A white yoke on a dark or colored dress visually enlarges breasts.
To lighten up the face, use the illumination effect – get dressed in everything dark, making only one white accent near the face: for example, a white collar or a scarf, a pearl necklace…
And a little more about white!
You can combine a few items of white clothing in a single image. However, you should pick up the clothes of the same shade of white, otherwise warmer white items will look dingy and faded, compared to the cold shades of white. The same applies to the combination of white with cool pastel colors – blue, lilac, lemon, etc.