A new chapter began in the advertising fashion-story of the French fashion brand Longchamp. Durign the fall-winter season, the advertising campaign moves from sunny New York to autumn Paris, where the beautiful young cyclist Coco Rocha, the official face of the brand, rides the cobbled streets of Montmartre.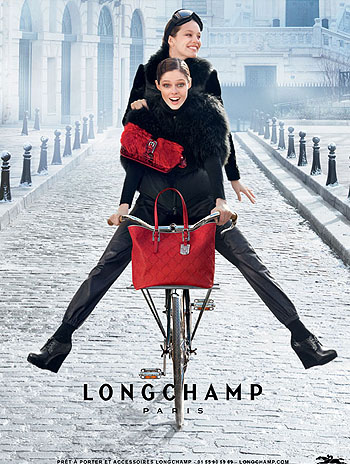 The cheerful and carefree character of the campaign is vigorously pedaling her bicycle at the same time demonstrating raincoats, coats, jackets and luxurious fur boas from the Longchamp pret-a-porter Fall-Winter 2012-13 collection.
The art director and choreography director of the filming Bianca Lee and photographer Max Vadukul, known for his skills of open-air shootings, became the authors of the cycling story.
The protagonist's faithful companion has changed: during the summer advertising campaign it was a dog called Jem, but now the heroine has a bicycle. The eternal hero of French streets is given almost a major role in the photo advertising. "Oh, my bike!" is the headline of the video version of the fashion story, dedicated to the bicycle, as it was suggested by John Matheson, famous for his collaboration with Ridley Scott.