It turns out, that a well-chosen bag can help you hide flaws of your figure. When choosing a new bag, use one golden rule: the shape of the bag should be in contrast to your figure type, while its size has to match your body size.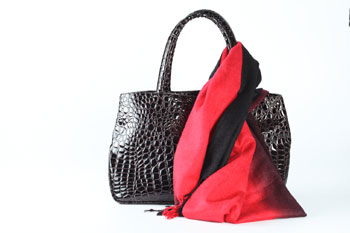 Bags for short frame
Large and roomy bags make a great fit for short women. However, broad and very massive bags will make you look shorter. Such bag will make you look even smaller. Moreover, avoid handbags with long handles, since those will also visually shorten your frame.
Bags for bony and tall frame
Give preference to broad and round bags, and shapeless bags in which width exceeds the height. Avoid bags with short handles, since those will make you look even taller. Hobo bags, crescent-shaped bags with one handle, will also work for you.
Bags for big frame
Avoid medium-sized bags, rectangular or elongated bags. A tiny bag, for example a clutch or card holder, in hands of a large woman will simply visually enlarge her body. Do not carry backpacks either. If you like patterned bags, then go for small prints.
Handbags for big busts and large shoulders
Women with large breasts and large shoulders are advised not to wear bags with short handles. Bags that finish around the bust area will simply accentuate the size of your bust. Choose handbags with longer handles or clutches, which you will carry in your hands.
Bags for wide waists, big hips, and large stomachs
Go for bags that finish at the upper body, just under the arm, rather than around the waist area. Any bag that falls at the problem part of your body will simply make it look bigger. Avoid small bags, since your body will look even more massive with them. You can use medium and large bags. Large clutches will work as well.
Source of the image: Photl.