The visitors of the last week's fashion show in Turkey had a chance to assess an exclusive wedding gown, decorated with a million of original Swarovski crystals.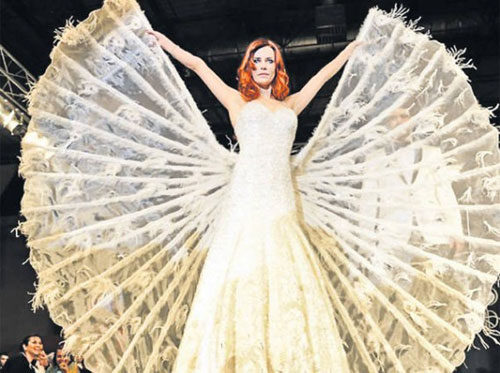 Tatiana Marinescu, a red-haired Romanian actress and model, tried it on and defiled the catwalk at a fashion event in Istanbul, showing the dress to the audience. And it did cost her a great effort!
The point is that the number of glittering crystals affected the weight of the chic wedding gown, and it reached 30 kg (66 lb)! The cost of the exquisite handmade dress corresponds to its weight and is about $270000.
The name of the creator of the exclusive wedding attire is not revealed. But we know that the dress has already been bought by the Arab sheikh, who decided to "indulge" his bride with a high fashion gift. However, taking into account the weight of the dress, it is difficult to decide whether to envy the bride of the sheikh or to sympathize. Wearing such a beautiful, enchanting and at the same time heavy dress for at least two hours is certainly not an easy task.
Source of the image: Coolandmore.