Looking and feeling beautiful can really affect our moods throughout the day. However, we all have days when we can't really find the energy to put the effort in and fully beautify before we face the world. What happens, though, if something unexpected crops up? Maybe it's a surprise shift at work or a job interview? A date? It's always best to have a back-up plan and to keep a few essential items with you so you can spruce up at a moment's notice.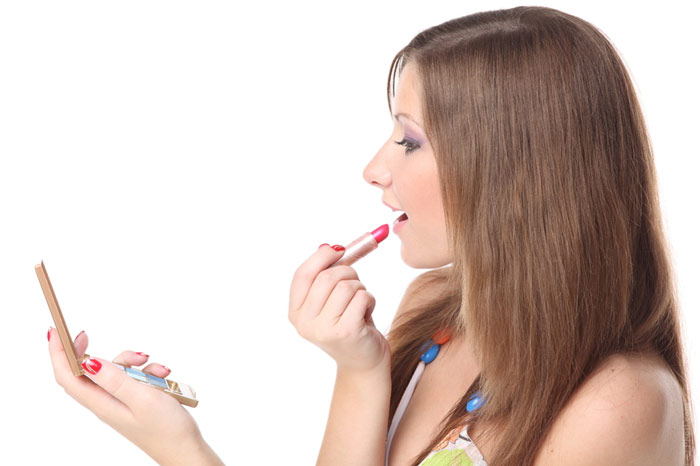 Of course, a beautiful complexion doesn't just develop overnight. Some things need to be maintained every day. Start by looking after your complexion with a good facial cleanser. A clear complexion will make it much less of an ordeal if you're in a situation where people are seeing you without makeup! Some people will only need to cleanse once a day to remove the daily built up of grim, but if you have oily skin, you might need to cleanse morning and night to avoid pore blocking.
It's also best to drink water. At least four cups a day will help to maintain clear skin. Drinking plenty of water can also stave off water bloating. Yeah, that sounds crazy, but drinking more water flushes out toxins and excess fluid. When we don't drink enough water, it affects our kidney function, which in turn affects the liver, making it harder for us to burn fat. Cold water is especially good for upping your metabolic rate, so try to sip chilled water throughout the day.
If, for example, you head off to work in the morning and the person you've had your eye on finally asks you to go for a drink, you might worry about how you'll look at the end of the day. A few handbag items are essential for this eventuality. Have a tube of foundation to touch up any shadows or blemishes, particularly around the eyes. Pop a sultry shade of eye shadow in there too, so you can quickly change from business professional to smoking goddess in seconds. Eyeliner is also a good idea to define work-you and evening-you.
To give your hair a quick pick-me-up, carry a small can of hairspray with you and give the underside of your do a quick spritz to add a little volume. Keep a small bottle of your favorite scent with you too and apply it to your hair, so you smell great all day long. Bear in mind, though, that perfumes contain drying alcohol, so don't spritz it straight onto your locks. Squirt it onto your hands first, wait for the alcohol to evaporate, and then rub it through your hair.
A top tip in terms of revitalization is to purchase a caffeine-enriched eye cream. Dabbing a little bit under your eyes before a big meeting or an unexpected interview can rejuvenate your face in no time at all. If you look particularly tired, use a peach eyeliner on your lower lids to lessen the appearance of redness. And to make your lips look a little fuller, dot a light-colored gloss in the center of your top lip, for instant puffing.
Dressing up together, trying out different lipsticks together, and exchanging hair tips and accessories… you see the girls in the movies making a day or an evening of looking good and having fun. However, you can see from above that you don't have to spend hours at the mirror to look good. Have a few strategic products at the ready and you can look fab in almost the blink of an eye.
Erin Smyth is a business consultant who is constantly on the go. When not advising clients on business strategy, she likes playing squash, jogging, and a good soak in the bath with a Cecelia Ahern novel.