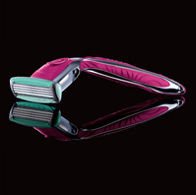 I've recently got the new Schick Quattro razor for women and had the opportunity to try it out. I'd like to share with you my opinion on this new product. Compared to other razors for women, this one has four blades, which work well, at least for me. What I liked most of all in this razor is that I don't have to use it twice in the same place, as it was with others. I also like the pink design and the angled head of the razor, which is comfortable, when shaving ankles, for example.
Schick Quattro May Scary You
Schick Quattro even has a suction cup, which can be used to keep your razor in any place you choose. But if you hang it up on the wall in the bathroom, don't forget to wet the suction cup a bit before, as it can fall down and scare you, while you are taking your peaceful and calming bath 🙂
Skip a Day
The producer claims, you may even skip a day or two with the new Schick Quattro. As for me, I think, I can as well, but no more than one day. And if it's not your case, remember, that everybody has their own hair growth speed, plus the different levels of tolerance. By the way, here's how the razor looks:
Spots after Shaving
I have to mention, that I had absolutely no spots or irritation after using this razor, unlike my previous experience with other razors, the skin was really smooth! And even the immediate use of an antiperspirant didn't cause the irritation this time, although I used to have a bit of it pretty often before. In general – and I'm saying it sincerely – I recommend the Schick Quattro razor. It's good, when you need to "make yourself respectable" quickly.
Shaving Tips for Women
And here are some shaving tips for women.
Take a warm shower before or during the use of the razor. Warm water softens the hairs and opens pores, it make the skin more elastic.
Shave only clean skin, otherwise you risk to get those unpleasant bumps and infection.
Use shaving gels or creams to soften the skin, usual soap doesn't provide that gentle shaving.
When shaving, you should rinse the blade often.
Try to shave at night, but not before going out, for example. This will give the epidermis the necessary time to recover after shaving and help avoid that uncomfortable feeling right after shaving during the day.
Shaving in the direction of the hair growth helps prevent ingrown hairs.
Use long upward strokes for your legs.
Pull the skin and only then start to shave.
If you need to apply pressure with the razor, it means, you need to change it for the new one.
I hope, these shaving tips and my experience with the Schick Quattro for women are useful and will make the use of your razor or the new Schick Quattro as comfortable as possible.