Taylor Lautner, who gained about 30 pounds to keep the role of Jacob Black in the Twilight saga, finds it a bit more difficult to gain – and keep – girls.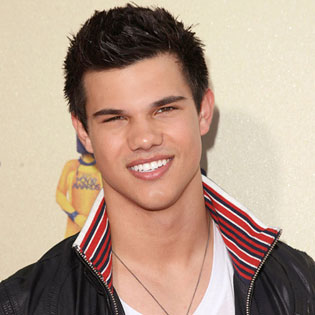 The National Enquirer told us a story of his dating Taylor Swift, his girlfriend of the Valentine's Day period, whom he tried to win back after a breakup.
According to the tabloid's source, Lautner's ego suffered a severe blow, and he laid himself out to get her back and regain his aplomb. The hunky teenager is "nothing if not persistent", and Taylor Swift was getting loads of flowers and jewelry.
Nevertheless, it didn't seem to have made any dint. Swift does not only disbelieve his sincerity – she is fed up with her former boyfriend whom she just wants out of the way, and she turned him down flat.
Now the famous teenage actor found consolation in the arms of his one-time high school sweetheart Sarah Hicks. He is reported to have abandoned his attempts at getting Swift back and hooked up with Hicks some time in July.
Sarah thinks the world of her boyfriend and is glad to have him back… In the source's opinion, she isn't aware of being "camouflage for Taylor's broken heart."
Besides Hicks and Taylor Swift, Lautner's name was coupled with those of Disney star Selena Gomez and Emma, a relative of Julia Roberts'.
Source of the image: Buzzworthy.mtv