The Ink Queen Kat Von D says she never dates anyone for whom she doesn't cherish feelings, so if she goes around with Jesse James, it can only mean one thing – love!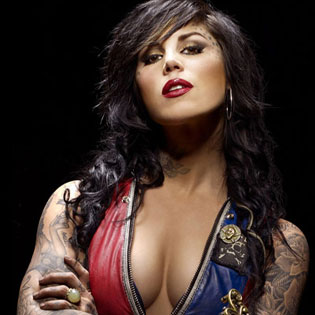 And it was said out loud Thursday at the opening of Kat's Wonderland gallery in West Hollywood when PEOPLE asked the tattoo artist whether she was sure James was the man for her. "I believe he is," she replied.
Von D further said that she isn't interested in James's divorce from Sandra Bullock and the reason behind it (James admitted he cheated his wife). She is feeling fine and enjoying the possibility to spend much time together.
When asked about his feelings, James shared that he likes everything about his new girlfriend and he is definitely happy.
James is Von D's ninth flame, a passion which took some time to grow… She cannot remember now when she became sure of her feelings, but it was connected for her with the realization of "how nerdy we were."
Source of the image: Nnm