Kat Von D is counting her gains and her losses now as two big events are shaking her life. She lost her show – TLC announced its intention to discontinue Von D's L.A. Ink – but her man went back to claim her!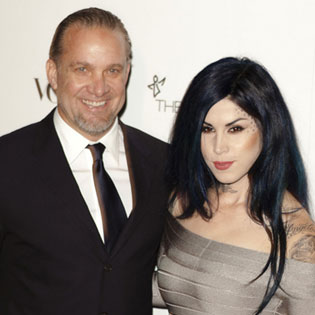 Von D and her fiancé Jesse James broke up last month, but couldn't stay apart for long, and their passionate photos together now decorate their Twitter pages. James's photo also carries a caption that says "forever" in Spanish.
This time James is dead serious, as he showed during an interview with PEOPLE. He said he believes in one big chance in a lifetime, and now that he realized that Kat Von D is his chance he is going to let her know how much she means to him. "I will never stop fighting and striving to hold on to her," he vowed.
Their engagement is officially in force, and Kat Von D's ring is back on her finger.
Source of the image: Fabulousbuzz.