Kat Von D's message on her Facebook page posted on Saturday says she is out of relationship. The situation between her and her fiancé Jesse James seems to change with every month, and now it's in the off mode again. Von D even rendered her apologies "for all the 'back and forth'" in case somebody felt confused.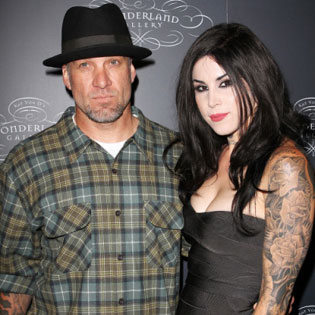 Von D and James's previous breakup occurred in July, just before their wedding that had been set for the summer. But when in the following month Von D learned that her reality show L.A. Ink had been canceled, they were back together, the fact that helped her get over the disappointment.
Still the engagement didn't hold. Sure enough it's rather tough to keep up a long-distance relationship – James lives in Texas, whereas Von D has no intention to move there. She wrote that she would be staying on in L.A. and would never think of abandoning her shop, High Voltage Tattoo.
Besides – as the 29-year-old tattoo artist confessed to PEOPLE – it dawned on her that hers and James's lives stray out too far from one another for comfort. Also, she is the one to stick to her values and will never give up on her personality.
Her friends may have had a hand in the breakup. "My friend put it best when he said I could never be more deserving of total, noble love," shared Von D.
Nevertheless, the body artist has only the best to say of her lost love and wishes he would find his own brand of happiness.
Source of the image: Society.ezinemark.