Crystal Renn, who is still remembered as a famous plus-size model, looks thinner these days – the fact that caused so many comments that she felt she had to issue a statement on this.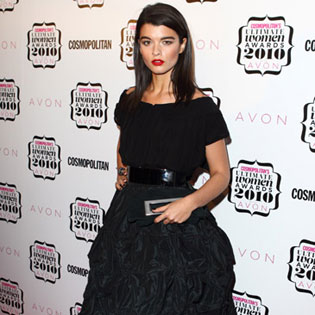 Renn, who was size 12 when she was on the runway in Jean Paul Gaultier attire, has come down to what looks more like size 8, and she affirmed on the Ford Models blog that she is happy with what she is now and won't be scurrying to work on her figure just because there are people whose expectations she doesn't meet.
If people have gotten into a habit of seeing her as a plus-size model (sizes from 14 up) and conjured up an image in their minds as to how exactly she must look, wrote Renn, it doesn't mean she is bound to go gaining weight in order to please them.
The 24-year-old model, whose 2009 book Hungry describes her struggling in the grip of anorexia, knows by firsthand experience the dangers of trying to get oneself into a different shape. She suffered from anorexia because she had wanted to match standards that didn't belong with her, and now – should she wish to go along with the public's expectations – she may well find herself overcome by another eating disorder, this time what she called "a binge eating disorder."
Therefore, Renn remains unconcerned about what other people may think she should be, for it's a question of individual health for her and not a question of appearances. And, as she said in an interview to PEOPLE, she keeps dreaming about a world where nobody goes labeling models "plus-size", "regular" or whatever.
Source of the image: Evilbeetgossip.