If there's one thing the entertainment industry loves, it's celebrity gossip. Fortunately, the Internet loves it, too. While there are many entertaining websites and blogs devoted to spreading celebrity gossip, there are even more entertaining YouTube channels. Here are a few.
TMZ
As the reigning king of Internet gossip, it seems like TMZ has its reporters seemingly everywhere. The second a star emerges into the public, TMZ has a reporter there, ready to ask a random question or two. Its YouTube channel is extremely popular and has nearly half a million subscribers who've watched more than 325 million videos. TMZ is often the source for a lot of celebrity news. They also have their own nightly TV show where the entire TMZ staff gets together and discusses the day's news.
If there's a particular video you like, use Provideodownloader.com to download the video so you can save it and watch it later.
Hollywood.TV
Hollywood.TV is another extremely popular YouTube channel dedicated to everything related to Hollywood. While the channel only has a little more than 100,000 subscribers, all of its videos have a combined total of more than 408 million views.
Entertainment Weekly
Entertainment Weekly has already established itself as a cable channel, magazine, and a website, and now it's taking over YouTube. Although it only has 18,000 subscribers, it has a combined total of more than 56 million views. It covers a range of topics, from books and movie reviews to celebrity gossip and television news. Most recently, it's uploaded interviews from Comic-Con.
People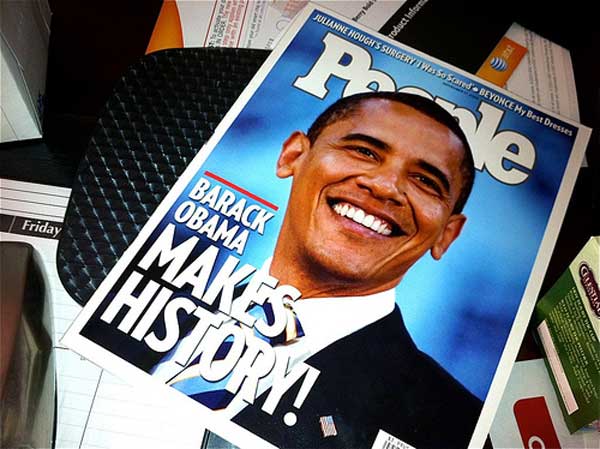 Image via Flickr by anokarina
People magazine is another great source for celebrity gossip. It's published a magazine since 1974 and is fairly new to YouTube. They host celebrity interviews, news from your favorite television shows, and much more. They have many more subscribers than Entertainment Weekly, but its video views are nearly identical at a combined total of 56 million views.
The great thing about People is that it doesn't just highlight celebrities; it also highlights regular who are in the news. When something is in the news, such as the Ariel Castro case, People decided to make that the cover story, highlighting the victims and featured interviews by all the victims.
POPSUGAR Entertainment
POPSUGAR is a series of sites and YouTube channels dedicated to everything related to celebrities. It's branched out to YouTube and has 52 thousand viewers. It doesn't just have clips and interviews; they also have channels dedicated to news, television recaps, interviews, and more. It has a combined total of 167 million views on its videos.
In the past, when you wanted to read the latest gossip, you had to wait for the latest issue of your favorite magazine to come out. With the Internet, things are posted immediately. To keep up with all the latest celebrity gossip, sign up for a YouTube channel and subscribe to these channels. When you log in every morning, you'll be greeted with all the latest celebrity gossip news that you can handle and take with you to work.