Jolie's new tattoo, placed playfully on her inner thigh, came into light in an issue of Vanity Fair where the famous actress was wearing shorts not indented to cover much.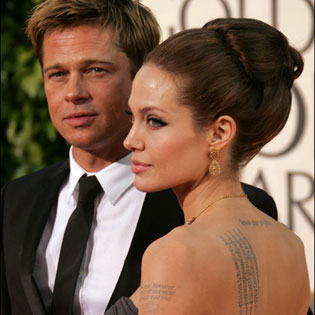 Questioned about it at MTV News on Friday, Jolie, 35, wasn't very outspoken about it, saying only that it is "something for Brad". Then she passes away from the subject of the ink, preferring to discuss what makes for a happy relationship.
To Jolie's mind, the best answer for maintaining a satisfying relationship is utter honesty with one another, the Salt star adding that she isn't very good at keeping secrets.
Salt is announced to be out on July 23.
Source of the image: Candistar.com.