Kate Hudson celebrated her 33rd birthday last month, and for those who agree that she looks incredibly fit and wonder how she manages to, here's a concise homage for her beauty achievements, 5 sound body-care tips straight from Hudson's mouth.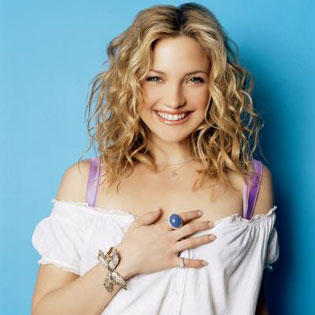 Pilates is best for workout, believes the actress, and her leanness has much owing to this perfect system as couched by celeb Pilates instructor Nicole Stuart. Her workout system and Stuart's advice can be found in the Net. Having completed her excercises she clinches the good work with bike riding.
 A woman is happy in her family! The Bride Wars star finds time to actively socialize with all her family members, including fiancé Matt Bellamy, mother Goldie Hawn, Kurt Russell and of course her two children, 8-year-old Ryder and 9-month-old Bingham with Bellamy. One of the usual tryst places for Hudson and Bellamy is the gym.
 Enjoy it! Maintaining your shape, Hudson affirms, even in pregnancy, should be pleasure rather than obligation – and everything including dancing with celeb trainer Tracy Anderson can be adapted to the circumstances.
Keep to a wholesome diet, and you will never have qualms appearing in a bikini! Hudson's living on a diet carefully planned with her trainer Ashley Conrad; some tips are drink water with lemon to be hydrated and detoxed, and take care your snacks are healthy.
 Look on the positive side of things, is the actress's firm belief. You always think about your family, wink at the bad but mind the good. Remember that it's never worth it if you overindulge at your health's expense. When asked if she is concerned with her appearance being under unrelenting scrutiny, Hudson said "I don't have enough time on this planet to worry about things like that. I'm more concerned with if I'm raising my son properly." Besides, when you help keep your family happy you will also stay happy.