Most dermatologists agree that you shouldn't wear makeup while doing fitness. However, for those who feel as if naked without some makeup on, here are some simple tips from makeup artists on your makeup for the gym.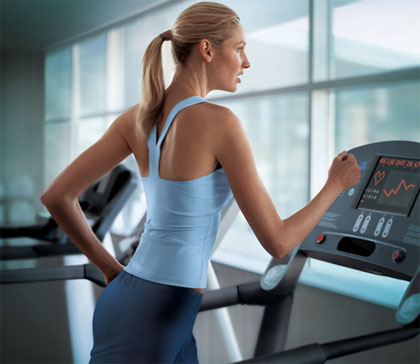 The reason experts don't recommend wearing makeup while exercising is self-evident. Our body pumps more blood to the skin as we exercise. The skin gets hotter, the pores get wider. Makeup products you use, especially your makeup foundation, could get deep into pores, clogging them, which would result in a disaster of inflammations, irritation or rashes. Here are some tips on how to avoid this.
Go with liquid mineral foundation. Your powder foundation is composed of dry particles that will clog the pores, while liquid products provide better coverage and stay in place. The best option probably would be to skip your foundation altogether and use some concealer under your eyes.
If you want to use mascara, it should be water-resistant.
You will be better off wearing a lip gloss instead of pigmented lipsticks. Lipsticks penetrate deep into lips and dry them, while lip glosses just cover the surface, which makes them the perfect choice for the gym.
One of the most important things, whether you work out with makeup on or without one, is to clean your skin off after exercising. Then you can apply your makeup and leave the gym feeling great.
Source of the image: sxc.hu/profile/dolar.