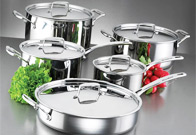 Everybody seems to be happy with the quality of zinc plated pots and metal frying pans. Nobody has thought about their impact on health. But now the things have changed. Scientists looked into the materials used in utensils and drew shocking conclusions. Some toxins may travel from cookware into the food and cause severe intoxications.
Non-stick Coating
Non-stick coating on frying pans and pots provides an opportunity to cook without adding cooking oils. And this means less cholesterol, calories and carcinogens on your table. However, latest studies showed that when heated, teflon – today's widely used non-stick material – released hazardous perfluoropropionic acid and benzene (especially if teflon layer is worn out) that have negative impact on our health and are removed from the body at the slow rate. By the way, teflon was originally used in military industry for radars. It is potentially dangerous to cook in teflon-coated cookware at the temperatures above 400 F (200 C) or when there are scratches on the coating surface.
Enamel Cookware
These cooking utensils can feature enamel coating of certain colors: white, black, cream, gray and blue. It's interesting that materials of other colors contain harmful chemicals such as manganese, cadmium, etc. It's important to make sure there are no spots, nicks and scratches on the glossy enamel surface. Scratched cookware is a thriving environment for bacteria. Nicks are also a kind of "gates" for hazardous metal ions to escape through.
Plastic
Plastic is often considered to be an ideal wrapping for foods. It's cheap and useful. But plastic composition consists of organic compounds with variable properties. For example, changing the color of plastic bottle requires developing new reliable technology. It is quite expensive and time-consuming. If something is not up to requirements, manufactured plastic will emit hazardous chemicals. Sometimes you can even smell them, but, mostly, detection needs the implementation of special equipment.
Cheapness or Health?
Don't try to save a buck on your health because possible health problems will cost you thousands of dollars. Follow guidelines strictly. If it says a cookware is for storing cold foods, it means it may release toxins when heated. Plastic containers for food storage are nondurable. Never use plastic containers beyond their service life.
Source of the image: simplykitchenware.com.au.