Iris Apfel is a designer, collector and creator of one of the world's most prestigious fabric-producing companies Old World Weavers, which she used to run together with her husband.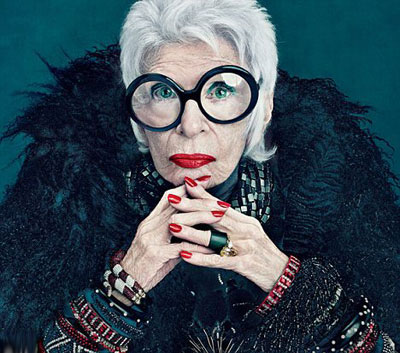 For many years, they had been supplying fabric to the luxury brands and even the White House. during the recent years, Iris has been traveling a lot around the world, and these trips helped her to get an enormous collection of clothing and accessories. Iris recalls that the passion for fashion was inherited from her mother – the wife of a decorator and a mistress of a fashionable shop. She was a true woman of fashion and loved to dress up her only daughter.
Today Iris is a widow, she is no longer young, but still happy. The star of the "aged starlet", as she calls herself, appeared on the fashion horizon after the presentation of her collection of dresses, jewelry and accessories Rara Avis (Rare Bird): The Irreverent Iris Apfel in 2005 at the Metropolitan Museum in New York. It was this collection that helped Iris Apfel evolve from a bizarre eccentric woman to a style icon. Today, she works with magazines around the world, travels, visits TV shows, and last year she even created a makeup collection for MAC. A premiere will soon show how her fashion weekdays pass, and now we just have a five-minute trailer.
"Style is a habit" – this is the motto of magnificent and unique Iris Apfel, who has already become a legend of fashion. One of the most extravagant fashion women is always happy to share the secrets of her style with all the people, who are interested in them. However, she needed a documental film to tell more about her life.
The trailer of the picture has already been presented to the public, and we are waiting for the premiere to see the working days of Iris Apfel, the 90-year-old style icon, who feels confident to connect haute couture with her findings from flea markets and the accessories brought from her trips, and easily combines the textiles of the 19th century with the fashion trends of Dolce&Gabbana and Oscar de la Renta. Watch the trailer below: