Back in the old times they were also into breast enlargement, but there were other – and simpler – techniques to try before they submitted themselves to the knife, if ever. The big question is just how successful were old techniques? We can get some of the answers from Khemmikka Na Songkhla, beautician from Thailand. She will tell you that you can be pounded into shape – as simple as that!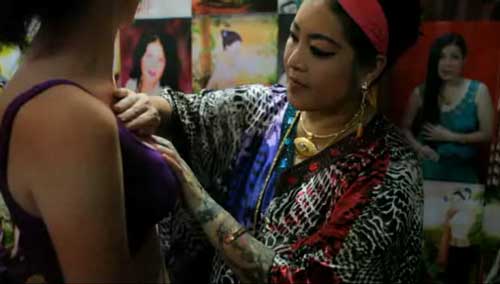 It certainly wants looking into, and as soon as we start to we find that after half a year's research the expert's slapping treatment has been recognized officially by the Thai Health Ministry as a feasible alternative to surgical enhancement.
The Bangkok-based beautician learned her technique of slapping boobs and other parts of the body like buttocks and face from her grandmother and is now arguably the only beauty slapper in the world. She is thinking about passing on her knowledge, and is considering taking on 10 apprentices for a significant fee. Meanwhile, her services cost $330,000 for the course of body treatment, $260,000 for breast slapping, and $165,000 for face slapping. She already has four clients to speak for her sculpting methods.
Khemmikka Na Songkhla, also known as "Khunying Tobnom," is now 44, and her mastering of slap-into-shape lore originates from her teens when she was on the lookout for ways to boost her own bust. Her journey started when her grandmother walked in as she was rubbing some promising cream into her breasts and told her that she needed no creams so long as she knew how to work on her breasts properly. There turned out to be an old-fashioned method of rubbing the chest hard and forcefully, and Granny proceeded to slap Khemmikka's tits quite painfully and then throw cold water on them. When the teenage girl saw that her breasts had acquired 4 extra inches, she began to learn Granny's slapping – which resulted in her setting up a beauty salon some 20 years ago. By now she has a long experience of toning up women's figures by slapping and changing their appearance dramatically by her unique massage solely.
Several years ago Khemmikka got under fire from one of her former clients who was diagnosed with breast cancer. The woman decided that it was the slapping treatment that had caused the development of the disease and laid the blame at the beautician's door. Khemmikka was concerned enough to bring in the Thai Health Ministry for a study of her treatment course. The Ministry carried out a 6-month research revealing that the technique was absolutely harmless and no cancer risk was detected; it also confirmed the remarkable results in breast enhancement. Eventually the slapping technique was granted official recognition as a sculpting course and an alternative to surgery.
Why should slapping do things to the curves? It appears that slapping and massaging goes to direct the fat in the chest area into breasts making them fill out. The technique involves a 10-minute-long session where slapping intersperses with squeezing and pinching not only at and around breasts, but all over the body, which many women report to be rather painful. But it surely does the trick, since the result is size enlargement of 2 inches and more!
The beauty salon is known to work wonders for females of all ages from teens up to 70-year-olds no matter what their lifestyle or occupation is. The only stipulation Khemmikka makes is for the client not to be all skin and bones – if the breasts and body are too thin she has no substance to work on, therefore it is necessary to gain some extra pounds before allowing yourself to be slapped into shape. Even if you don't make it to Thailand it's still nice to know that there are natural methods to become curvier!