Nina fragrance is one of the most successful products by Nina Ricci. It was created in 2006, and since then the fruit and floral composition has conquered the hearts of millions of girls on the planet. This year, time has come to upgrade the edition.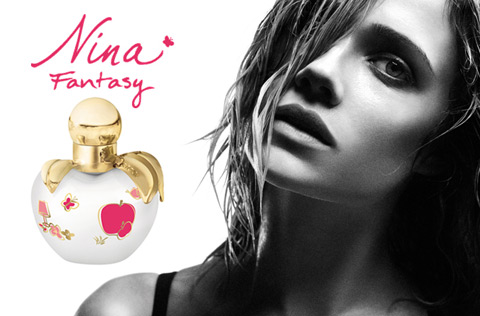 The flanker of Nina fragrance is the novelty of 2012, Nina Fantasy. This is the typical odor of spring: a playful and fresh fragrance for dreamy girls.
The perfume composition has inherited the strong points of its predecessor. The new fruit and floral fragrance Nina Fantasy is based on the notes of bergamot, mandarin, cherry blossoms, roses, heliotrope, mate tea and brown sugar.
The bottle has the recognizable form of an apple. However, the 2012 version is presented as a white "apple" with a cute print and a gold lid. The face of the fragrance is the model Florrie Arnold.