You don't get round high heels, so the main thing is to get them as much of a statement as possible. At times even a wacky idea will strike the desired note. But the amount of designs that draw the right kind of attention is ample, and the latest one from Greek shoe wizard Dukas is certainly noteworthy. He has come forward with his Spring 2013 collection which contains something to write home about – like these cutely sexy shoes with a pair of female legs for stilettos! While adding a more appealing shape to your own pair, they kind of mirror your legs with a tiny replica, attracting more attention to them, isn't it great?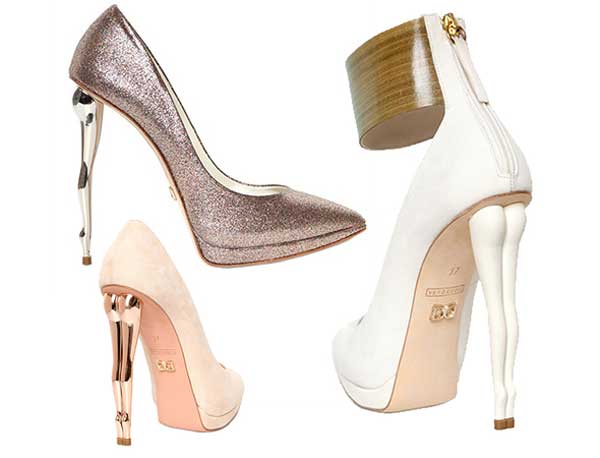 Dukas's long-legged heels are made from pure calfskin and come in three designs: 130 mm Suede Doll Heel Pumps (white calfskin, a sculpted heel, a leather ankle strap, price tag reads $876), 130 mm Glitter Doll Heel Pumps (silver shine, a mirrored sculpted heel, for $807), and 130 mm Suede Doll Heel Pumps (peach suede, a mirrored sculpted heel, also for $807). All of them look like footwear to be snatched, which can be done at LuisaviaRoma.
Compared to the so-called reversed heels (picture below) these look really wearable and nice.