The Australian Qantas airline has developed a new uniform and invited one of the most popular Australian models Miranda Kerr to present it.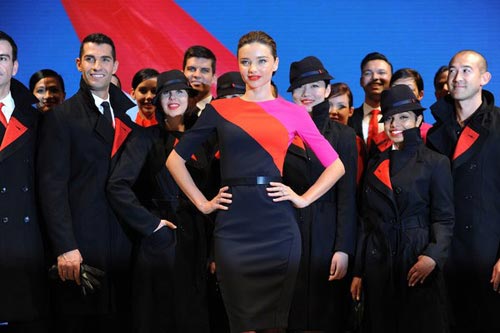 The combination of black and red colors is the brand feature of the Qantas airline company. The new uniform is a combination of black, pink, and orange. Miranda looks excellent in it.
The flight attendants liked the new color combination and criticized the cut of the new uniform. They said that, unfortunately, they did not all look like Miranda, so the uniform was not suitable for them. Indeed, Miranda looks stunning in the new jacket and pencil skirt. But the flight attendants do not consider such clothing to be comfortable. The girls from the airlines said that the only advantage of the new uniform was its sexuality, but it would be difficult to work in such tight clothes.
Despite the frustration of the employees, Qantas ordered 12,000 sets of new uniforms. And what should be done with the flight attendants' doubts? The company announced about its plans to dismiss about 1,000 workers.