Jeans with embroidery or flower applique is a proposal for Spring 2015, borrowed from the catwalks. This practical idea came back quite on time!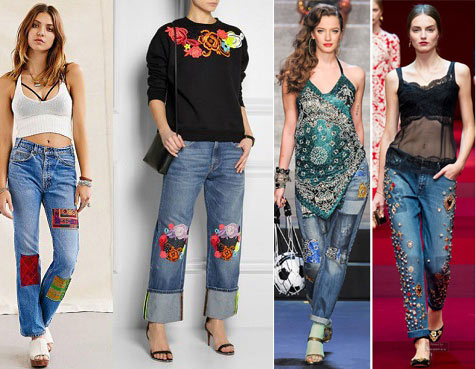 If you are already writing down the ideas about how to save money during the spring shopping, this trend is just for you! After all, it means that you may not buy new jeans for spring, but only update the old ones. Update them with embroidery or applique.
This trend is not new. Remember the denim girls in the 1960s and 1970s. They seemed to have come up with an idea to decorate everything with various embroideries, drawings, and knitted bracelets…
In the early 2000s, embroidery returned to the jeans style. Perhaps, not many people noticed it then. But in 2015 this trend has become topical and very useful. We can safely choose jeans with embroidery or applique for the spring look – without spending a dime on new items!