TAG Heuer has long been a world-renowned brand in luxury watches for both men and women. With both classic and modern styles, TAG Heuer offers the best possible experience regarding function and form.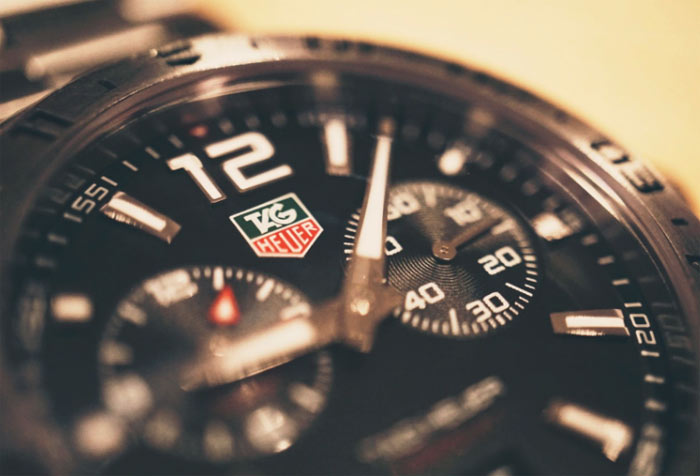 TAG Heuer Women's Watches are sought after worldwide by women who enjoy a bold look in their accessories. Here are four things you need to know about the wristwatch that might change your life.
Steve McQueen, NASCAR and Watches
TAG Heuer has relationships with various ambassadors, including model, actress, and all around "It girl" Cara Delevingne, model and social media icon Bella Hadid, and everyone's favorite God of thunder, Chris Hemsworth.
TAG Heuer has long been a symbol of the racing industry, forging partnerships with NASCAR on a continuous basis. They also had a longstanding relationship with late Steve McQueen, the original King of Cool, who remains an honorary ambassador for the company today. From surfers to actors to professional racers, TAG Heuer has their bases covered when it comes to creating watches for all walks of life. Rest assured that wherever your passion lies, there's likely a TAG Heuer design to complement it.
Swiss Made
TAG Heuer, originally known as Uhrenmanufaktur Heuer AG, came into existence in 1860 in Switzerland, which is the luxury watchmaking capital of the world. It adopted the name TAG Heuer in the 1980s. In addition to making luxury watches, the company holds the patent for creating the first dashboard chronograph, one of many automobile and aircraft designs they would become known for over the years.
Uhrenmanufaktur Heuer AG was founded by watchmaker Edouard Heuer, the son of a shoemaker and born with the spirit of an entrepreneur and craftsman. His main goal in watchmaking was to find a way to create a better product that takes less time to put together. His quest for efficiency led Heuer to create the oscillating pinion, for which he was given a patent. The oscillating pinion is one of the most widely used apparatuses within the self-winding chronograph movement.
Wondering what sets Swiss made watches apart from the rest? In the watches, every little component– the gears, the hands, etc.– are hand assembled and made from durable metals rather than the plastic cogs and gears in cheaper watches. A watchmaker must be skilled in assembly, and know how each piece fits together perfectly to create a long-lasting timepiece that's worthy of its price tag.
It's worth noting, that the TAG in TAG Heuer stands for "Techniques d'Avant Garde," which pays tribute to their innovative, off-the-wall techniques and inventions. Despite being Swiss made, the company is now owned by the French.
Diverse Designs
Many of the luxury watch companies have a signature look and stick with designs that emulate one another. Cartier, for example, is a French luxury watchmaking company that favors square designs. The approach works for them as the British monarchy has long preferred their watches. TAG Heuer, however, takes a more daring approach and aims to shake things up with their various design schemes.
Take, for example, the Aquaracer. It's bold, round, masculine design fits well with what most men in the market will be looking for in a luxury watch. The Monaco, on the other hand, has a standout square face and incorporates various color blocks into different models for a completely unique approach that barely resembles the Aquaracer. For the record, the Monaco was Steve McQueen's watch of choice.
TAG Heuer also has a smartwatch offering, that combines luxury watch wearing with the latest and greatest in tech. The Connected Modular has different models with various storage capabilities and customization. The watchmaker collaborated with both Intel and Google to bring forth the best user interface possible. Users love that they can change the face of the watch to represent a classic, old-fashioned analog timepiece that masks the smartwatch within.
Uncompromised Strength in Women's Watches
TAG Heuer has a lot of marketing targeted toward men, yet they manage to make stunning watches for women. To stick with their bold designs, they refuse to compromise strength for daintiness or lesser quality. One could say they find the feminine beauty in strength, for the alpha women of the pack.
If you like the classic watch look, inspired by an iconic male figure in your life, you'll love the bold lines and large faces of the TAG Heuer. The Carrera model offers strong lines with soft, rose gold inlay to create a stunning combination. Many of the Quartz models incorporate diamonds if you prefer to treat yourself with a little bling. Metal, fabric, and leather straps are all options for whichever model you choose for your investment.
As far as quality goes, TAG Heuer should be a top contender when choosing to buy a luxury watch for yourself. These masterpieces promise to be an heirloom that you can pass down through generations.