adidas means not only famous sports suits, and many fashionistas have already learned it.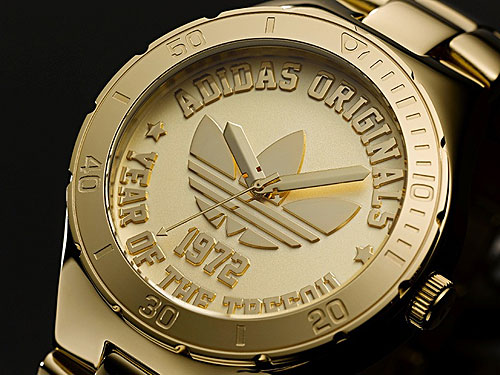 The extravagant Originals brand, affiliated to adidas, differs from the main line with its design and is marked by the collaboration with a wonderful designer Jeremy Scott. Now it manufactures a premium watch collection called Melbourne to commemorate the 40th anniversary of the cult trefoil logo.
The limited edition watch collection consists of 500 numbered copies. The body of the watch is 50 mm in diameter. It is made of solid gold-plated polished steel and is equipped with a rotating bezel. The face of the watch has a shamrock, pressed with the help of hydraulic, and a unique serial number for each watch is indicated on a metal plate on the left side of the watch. The gilding covers not only the body and the face, but the bracelet as well.