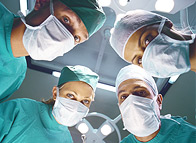 Medics are currently testing a new method of excess weight loss, which lets the patient live their normal life without changing their nutritional habits or dieting. The reduction of the calorie intake is provided by electronic implant VBLOC made by EnteroMedics. The new invention is said to have little or no side effects.
How the Weight Loss Implant VBLOC Works
The patients should wear a belt transmitting low-power electronic impulses that block the signals which the brain and the stomach exchange via the vagus nerve. Thus, the effect of this process is many sided: the "hunger signals" are quelled, the stomach doesn't expand during the food intake without the connection with the brain; the blocking of the verve also leads to less gastric juice secretion and a less intensive digestion. The device doesn't work constantly, but is activated every five minutes for a certain time. But this period is enough to rid the patient of the hunger pangs and make one eat less.
Comparing VBLOC with Gastric Bypass and Gastric Banding
The authors of the technology claim, that earlier methods of surgical calorie intake reduction, such as gastric bypass and gastric banding, are much more traumatic operations, as they physically stop the stomach from expanding, without mentioning the partial stomach resection which is used for the same purposes. The absolute advantage of the new weight loss method is in the fact that the operation is fully reversible.
Weight Loss Implant VBLOC Trials
The first part of the trials involved several dozens people who lost on average 29,1% of their excess weight. Now VBLOC enters the most important part of the trials, where 300 overweight patients are to be tested.
VBLOC Development
The EnteroMedics specialists have already gone further and started to develop an improved vertion of VBLOC, which should be implanted via gullet in order to rid the patient of any body stitches.