Rosie Huntington-Whiteley holds Louboutin shoes in such high esteem that she honestly believes some 13 or 14 years is not too long a time to get the brand's sexy footwear!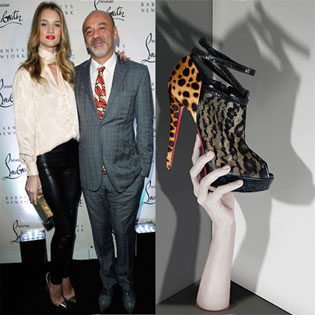 After having gushed in praise of the costly footwear last week at Christian Louboutin's launch party thrown at Barney's in Beverly Hills in honor of a new book, Victoria's Secret model said she thought every girl should strive to obtain a pair for herself and start saving money.
She told the Fox411's Pop Tarts column that she adores Louboutin's signature red-soled shoes because they give her a sexy, womanish look. Everything about them is beautiful – the lines, the colors, the cuts, the embellishments, because Louboutin "managed to capture something special for women."
The 24-year-old Transformers actress went to add that every girl should indulge herself in these shoes, even if they set them back $700 at the least. She would like to share these marvelous feelings of being feminine and sexy with every girl… So they'd better begin saving by putting away a dollar each week. "It's worth it girls," said Huntington-Whiteley… Or will be worth in around 14 years.
Apart from wearing Louboutin, the British beauty who has recently embraced fame sounds happy and contented. She considers herself to be lucky and her secret for staying this way is – not to wish for things she doesn't have.
Source of the image: Ninemsn.