There are many myths about high heel shoes. How much harm can high heels do to our legs?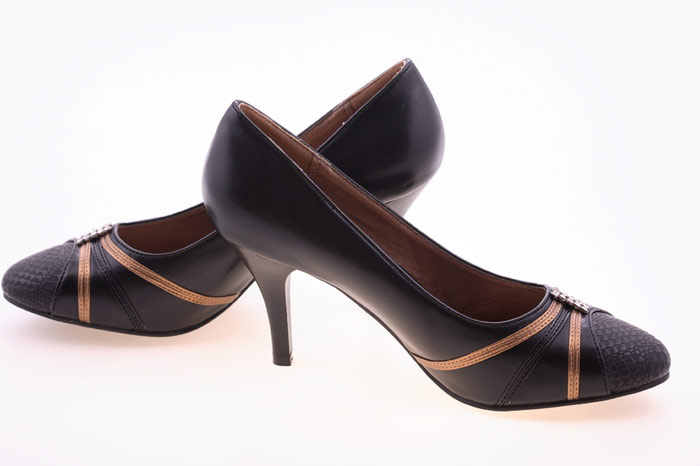 Bigger calves
This is not the result of wearing high heels, although there is an opinion that instep makes calf muscles "swing". If calves get bigger, shoes are not to blame. Maybe you have just gained weight, or suffer swollen legs.
Varicose veins
If you have a predisposition to varicose veins, then sooner or later they will appear. Moreover, it will happen due to hereditary factors, and not because you wear high heels.
Do not go to extremes
Doctors advocate for an average height of the heel, and the reasons are manifold. High but stable heels exert tremendous pressure on the forefoot. At the end of the day, this load turns into pain, and not only in the feet, but also in the shins and knees. Gradually, this results in circulatory disorders and joint diseases, such as arthritis.
Graceful stilettos are a real instrument of torture for feet. According to statistics, women wearing stiletto heels more often sprain or stretch their feet and break their ankles. A tight and sharp toe cap harms your toes; they will not just hurt and begin to deform, but also develop bunions and corns.
Sneakers and ballet flats
Sneakers and flats offer no amortization, they cause heel pain, heel spurs and promote flat-footedness,
What should you do? In the office, wear shoes with a stable heel 3-5 centimeters high and with a rounded toe cape. Out of work, wear shoes or boots with 1.5 cm heels.
First Aid
If your feet are already affected by the wrong shoes, discard them. Pick shoes with a heel of optimal height and go to an orthopedic salon for insoles. Customized orthopedic insoles are much better than standard ones because they are made especially for the patient's foot considering all the anatomical features and the necessary correction of flatfootedness, foot support and unloading. Insoles can "remember" the foot of the owner – it seems to be imprinted on the insole, and, as a result of walking, each finger has its place. These insoles offer no correction; they are just convenient.
Celebrities against high heels
Hollywood celebrities declared a real war on high heels. Kristin Davis (Sex and the City) has admitted being sorry for the propaganda of uncomfortable high heels traumatic for feet, and she apologized to her fans. The actress prefers to wear comfortable low heels and sneakers. Uma Thurman does not part with flats, and she has appeared wearing them even on the red carpet.
Angelina Jolie likes to wear ballet flats in ordinary life. Kristen Stewart (Twilight) prefers sneakers. Emma Thompson, in protest to high heels, even threw away her shoes right during the Golden Globe ceremony and left the stage barefoot.