The British experts have conducted a new study, the results of which allowed calculating how much time women spend every day discussing other people.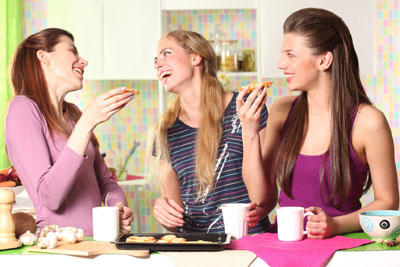 As it turned out, a typical lady spends nearly a third of her wake time gossiping – 298 minutes per day which is equivalent to nearly five hours. In addition to the total amount of time that women devote to this occupation, the researchers have identified the most favorite topics for ladies to discuss.
Thus, it turns out that ladies spend about 24 minutes every day talking about their weight, diet and clothing sizes. One third of the participants of the study admit that they regularly discuss what they eat with friends and colleagues, and a quarter of all the respondents also exchange interesting recipes. As one of the leading authors of the study, Steve Barton, says, he and his colleagues did not expect food to be such a popular topic for women to discuss.
The weaker sex also likes to discuss makeup and various procedures, as well as the celebrities' private life. Most often the women's interlocutors are neighbors, shop assistants or even unknown women as, for example, in public transport. In addition, women eagerly talk about children, shopping, ways of spending a holiday, series, common acquaintances, and relationships. What is nice, the ladies very rarely complain about their own partners.
Source of the image: Photl.