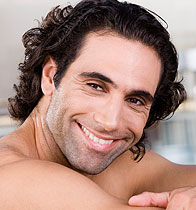 It was always women who went under the knife and had all kinds of beauty treatments for body and face. Today's men, however, are rapidly catching up with women in plastic surgery. According to beauty experts, men are now "hanging up" on Botox. Five years ago, wrinkles in the forehead of a man in his forties were quite attractive and told about wisdom acquired with age. Today, men don't want to look noticeably older than women of their age. Looking at magic changes in women, men also took a fancy for trying cosmetic achievements of mankind.
Botox is steadily gaining popularity among US men. In 2007, surgeons made 4.6 millions of Botox injections with men's share of 300 000.
Surgeons say there is a real boom of Botox injections for men now.
Dynamic cosmetics industry has already invented an alternative for men – Reloxin that, similarly to Botox, will smooth out age-related wrinkles. New injection will be supposedly approved by authorities in 2009. According to Alan Gold, president of the American Society for Aesthetic Plastic Surgery, there is a high probability that Reloxin will followed by other remedies.
Men are driven by the desire to look younger as well as by their efforts to improve social status and private life. Botox is increasingly popular among finance experts and managers. Often, men are told into plastic surgery by their wives.