Summer weddings offer a great opportunity to bask in the sunshine and capture beautiful outdoor pictures of the married couple, family and friends. A spate of summer weddings after months of being wrapped up in layers of warm clothing can, however, require a little more in the way of personal grooming.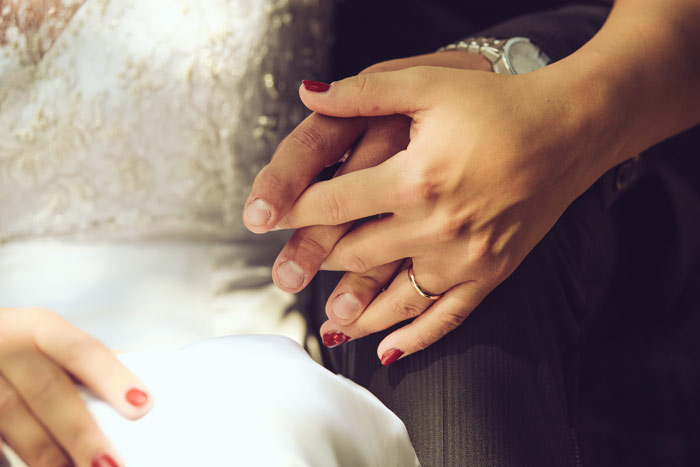 Make sure you're brimming with confidence as you slip on that white dress or lightweight linen suit by following these 10 steps to get ready for your summer wedding.
1. Detox and diet right!
It can take months to plan a summer wedding, during which time it is all too easy to pile on the pounds by trying out wedding cakes and catering menus, and comfort eating your way through last minute venue changes.
Make sure your dress still fits like a glove by adopting a healthy diet as soon as that engagement ring is presented. Throw out the high-fat, sugary snacks and make sure your marriage starts off healthy by choosing fresh fruits, vegetables, nuts, seeds, legumes and whole grains. That way, you'll also help support your body's natural detoxification processes, meaning that there's no need for a last minute fasting juice cleanse that could actually leave you vulnerable to illness and skin breakouts on your big day.
2. Get a natural-looking tan!
If your wedding is early in summer, or it's been a lacklustre spring, consider getting a healthy glow by skipping the tanning bed and booking an airbrush tan. Have a trial run a little in advance of the wedding to ensure no mishaps with colouring, and be free from strapline-stress and sunburn when you slip on your dress.
3. Eyelashes – dye and waterproof mascara
Most brides try to avoid the rock 'n' roll eye make-up look at their wedding. So, if you think tears of joy are inevitable, consider having your eyelashes dyed in advance and choosing a waterproof mascara and eye liner.
4. Sexy summer legs
Summer weddings usually call for short carefree dresses, but many women end up a floor length dress or pant suit simply because of embarrassment over the appearance of their legs. If varicose veins are dictating your wedding style, it's time to book an appointment with a respected surgeon and have those troublesome veins addressed. Allow 6-8 weeks before your big day to ensure you have smooth, sleek, sexy summer legs as you skip down the aisle.
5. Sun-kissed hair
A little sunshine in your hair can help you achieve that carefree summer look, so talk to your stylist about highlights, ombre or balayage. Just like with your tan, make sure to have a trial run – no one likes a surprise right before their wedding day.
6. Exfoliate
Something old, something new is a tradition at weddings, but make sure your skin isn't the something old. Exfoliation is a great way to slough off old, dead skin cells and reveal younger, fresher, healthier looking skin; it's also essential for an effective airbrush tan, so be sure to exfoliate a week before your big day.
7. Tackle cellulite
Collagen production drops dramatically around the age of thirty, meaning that the average bride feels at least a little self-conscious about cellulite. Make sure to support natural collagen synthesis and skin health by quitting smoking, staying hydrated, reducing dangerous sun exposure, and eating a diet that is high in antioxidants such as vitamins E, C and A.
Using a specialised skin cream that contains these nutrients, along with ellagic acid from pomegranates can also help, as can booking yourself into the spa for a seaweed body wrap the day before your wedding.
8. Quick-fix body toning
Worried about how your upper arms will look in that cap-sleeved wedding dress? Take a little time to devise an easy workout regimen that focuses on toning your arms, legs and torso and that can be done at home using household objects as weights. That way, when you have to skip the gym to yell at your caterer, you can at least multitask and lift some weights in the living room.
9. Moisturise
The stress and strain of wedding planning can take its toll on your skin. Make sure to drink plenty of water, eat fresh fruits and vegetables, and to use a quality moisturising lotion to keep your skin well hydrated to avoid looking wrinkly, dull and dry in your wedding photos.
10. Pedicure
Summer weddings basically mandate sandals or slip on shoes, but bunions, corns, callouses and dry skin can sabotage even the most stylish look. Book a pedicure for the week before the big day, or even treat yourself to a monthly pedicure in the run up to the wedding, especially if your feet and lower legs need a little extra pampering after months or years of neglect.