2015 offers us many interesting and beautiful fashion trends. Checkered patterns of different colors and sizes will be one of the main trends of the season. If you want to look fashionable and relevant, it is not necessary to radically change your clothes, getting rid of old things.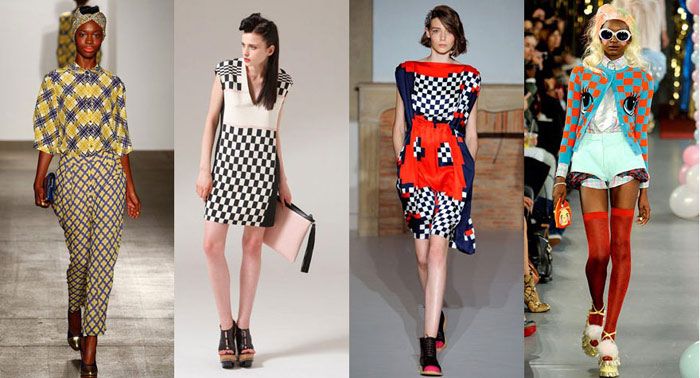 Just add a few new ones. For example, add a few checkered items.
Checkered clothes came into the world of fashion from England. Back in the 18th century, cotton fabric with checkered patterns began to be produced in Manchester, and the British public liked it very much.
We share the recommendations of Italian stylists on how to wear checkered clothes.
Checkered clothes of pastel colors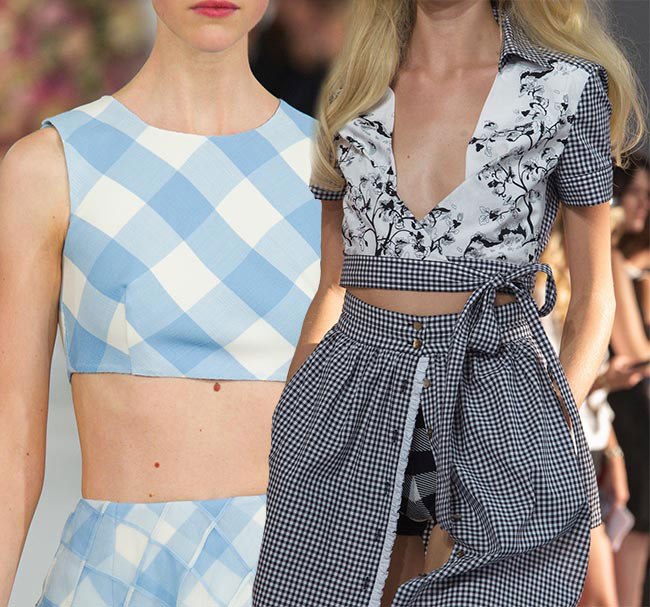 One of the softest flirty combinations includes checkered clothes of pastel colors. The color may be pale green, blue, pink, beige, peach, or cream. You will look tender as in summer, feminine, and romantic.
Selecting checkered clothes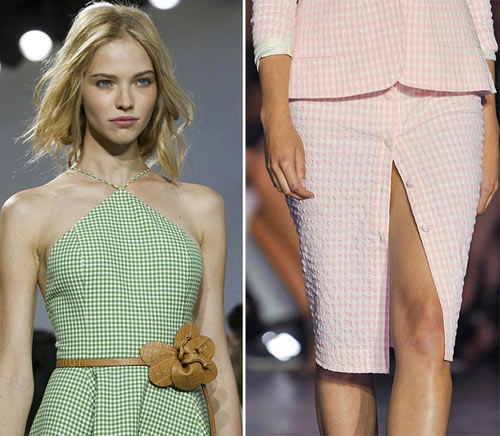 This season, the fashion world offers checkered clothes of completely different colors, shades, and sizes. You must pick the checkered clothes that are right for you.
Note that the larger cells the checkered garment has, the more it will visually increase your figure.
If you have large forms, you can no longer wear small checkered patterns. If the figure is normal, any size of the checkered pattern will be suitable.
Checkered clothes in combination with other patterns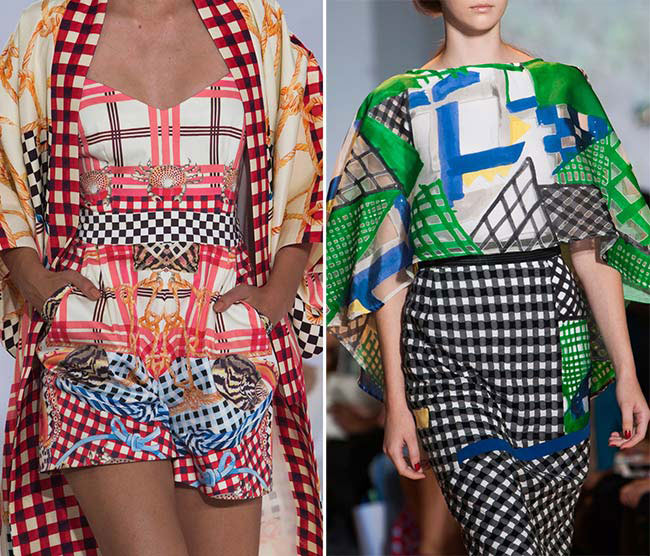 If you are a creative person and like original items, if you have good taste, you can safely try to mix checkered clothes with other patterns and prints. Moreover, it is best to combine contrasting clothes and vibrant colors. In this case, be prepared to attract attention and admired looks.
The main focus here is a contrasting combination of clothes. Complementing this image with a retro hairdo or lacquered shoes with heels, you will surprise everyone.
We recommend using very basic and neutral colors and accessories while creating such a silhouette. For example, black shoes, a white or black bag, etc.
Creating a feminine look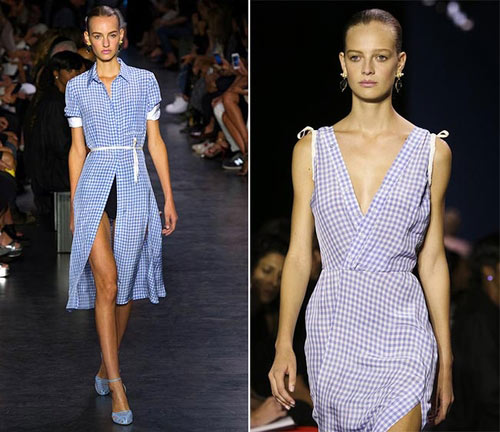 We also encourage you to create a feminine look of your checkered dresses, tunics and blouses, using a strap or a belt at the waist.
We recommend choosing unusual dresses with a cut and slightly unbuttoned shirts to create a flowing and romantic silhouette.
While creating such an image, it is important to use a simple hairstyle, base shoes, and neutral makeup avoiding bright lipsticks.
A retro version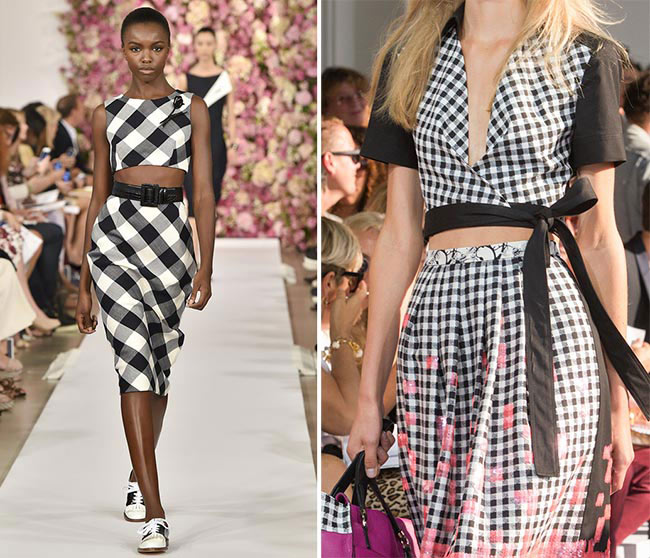 If you like to be dressed glamorously, try the retro version: a skirt and a black-and-white checkered top in combination with a knee-length skirt. This is an unusual variant of the retro style.
Such an image can be supplemented with high heel shoes or sneakers. In the latter case, you will look more fashionable.
The combination of checkered clothes and black color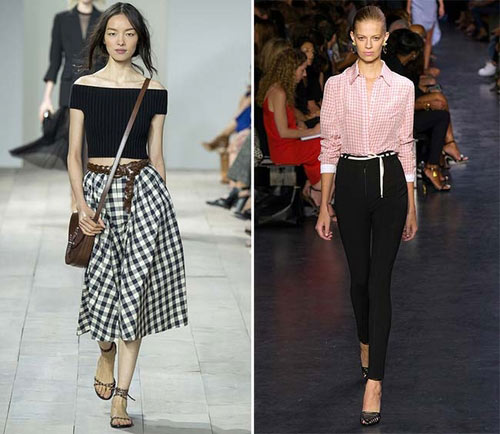 One of the simplest combinations is wearing checkered clothes with monochrome things. In this case, you can select any color of checkered clothes and a black top or bottom.
For example, a black top and a black-and-white checkered skirt, a pink checkered shirt and black pants. Unbutton a few top buttons of the shirt, and you'll look sexy; add a strap and you emphasize your slender waist.
A checkered costume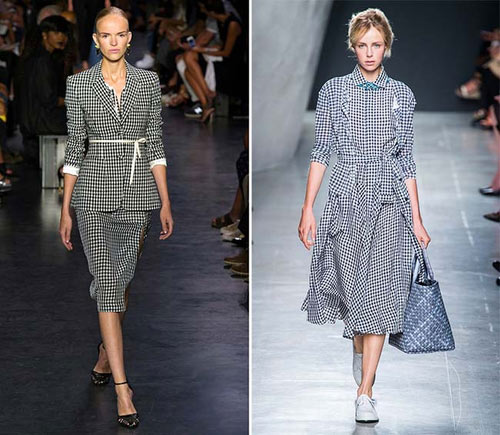 A checkered costume is an option for those who would like to look unusual in the office. Checkered costumes will make you look unusual and very elegant. This is a bold combination, and not everyone dares to use it in the wardrobe. Be the first!
Add a pink lipstick, shoes on thin heels, tie your hair in a ponytail, and your image will be irresistible. If your job presupposes no dress code, you can combine a checkered costume with sneakers. This image will be more glamorous and topical.