Fashion world appears to be on the brink of a new era. Girls who are challenging themselves to slim down to a size-zero can now sigh with relief. Non other than Anna Wintour spoke out against skinny minnie models. Vogue's editor in chief wants to see models healthy.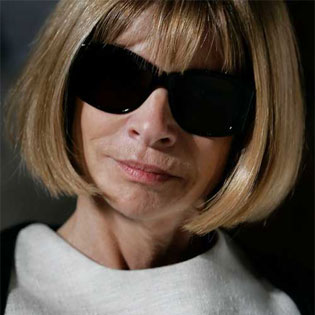 Gone are the days when Wintour was an avid advocate of skinny teenage-like models on the runway. Now one of the most powerful ladies in the fashion world urges the shift of standards.
Many fashion designers agree that the prevalence of skinny and haggard looking models made some girls consciously emaciate their bodies. Models have to conceal their health problems to keep the job, eventually facing disastrous consequences.
Anna Wintour encourages modelling agencies and designers to set up a definite scheme to use when they encounter very young or skinny girls.
Wintour said that each and every one of us needs to realize that we are all responsible for the model's health. "We need to reverse the tyranny of sample clothes that just barely fit a 13-year-old on the edge of puberty."
Well, it seems that fashion industry have "grown up" and got interested in curvaceous women.
In her crusade against anorexia, Wintour got allied with Michael Kors and Natalia Vodianova. Natalia thinks that girls are suffering because they get involved in the modelling business at a very young age when you still lack enough of self-reliance and self-preservation.
Source of the image: angelaseeangelablog.wordpress.com.