In the new review, we'd like to share with you nearly two dozen incredibly simple, yet useful tips that will help to bring order to your wardrobe. Probably everyone has been faced with a pandemonium in the wardrobe at least once in their lives. The tips below will help to change that.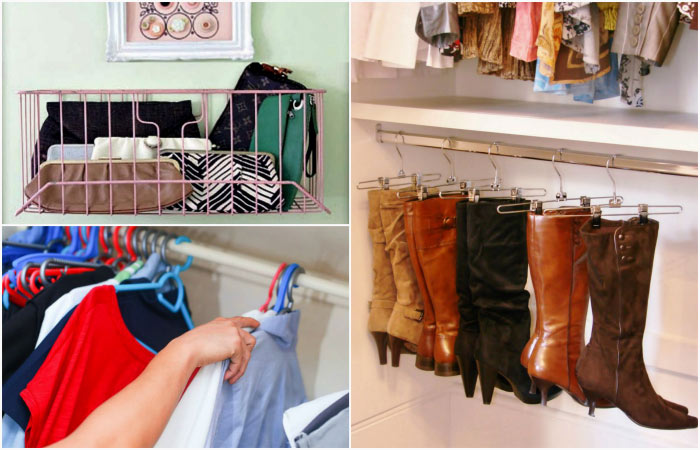 1. Clearing the wardrobe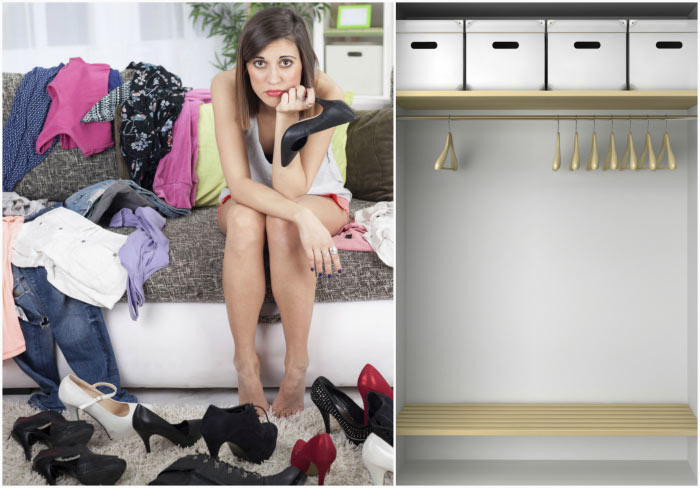 First, you need to clear space, that is, to pull out all the clothes, shoes, bags, linen, boxes and other treasures from the wardrobe. All these things need to be spread out on the bed or on the floor so that you can see all your belongings well. Clean the empty wardrobe and leave the door open.
2. Sorting things out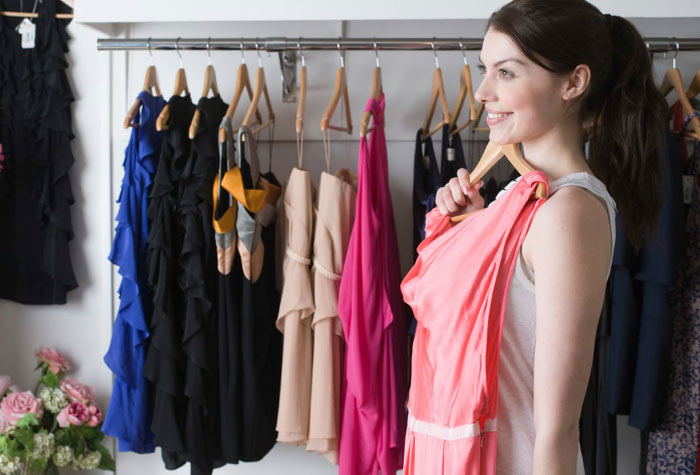 Next, take a closer look at your clothing. Sorting out the clothes, ask yourself: does this thing fit me? Have I worn it at least once this year? Am I going to wear this in the near future? If I saw it in a store now, would I buy it again? If most of the answers are negative – this stuff doesn't belong in your wardrobe. In addition, get rid of worn out things, stretched sweaters, torn tights, single socks and other things that have taken up space in the wardrobe for a long time.
3. Natural selection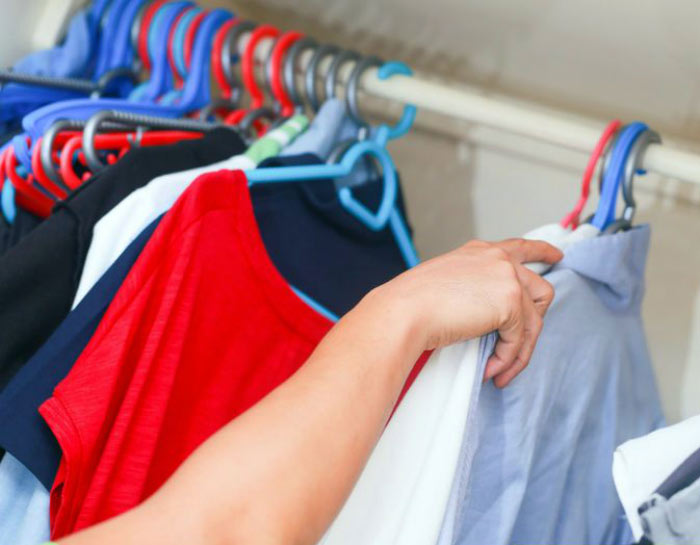 Hang your clothes so that the hooks face one side. After wearing an item once, turn the hanger to the other side. After about a month, you will be able to assess which clothes you wear, and which can be moved to the pantry or even given or sold to someone. The same can be done with clothes on the shelves. To do this, leave one shelf free and put everything you have worn on it.
4. Marking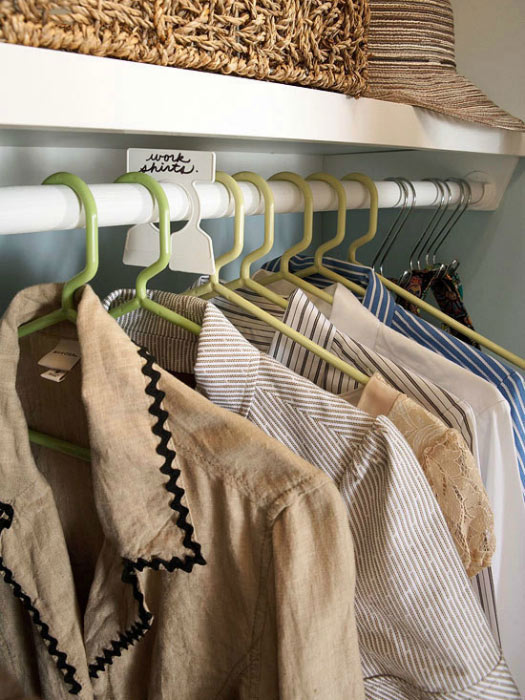 Sort the contents of your wardrobe by using dividers. You can make them yourself out of cardboard or buy, for example, in Ikea. Thus, it is possible to sort all the clothes by season and by purpose. This advice will allow you to maintain order in the wardrobe and save you time searching for the right outfit.
5. Colored hangers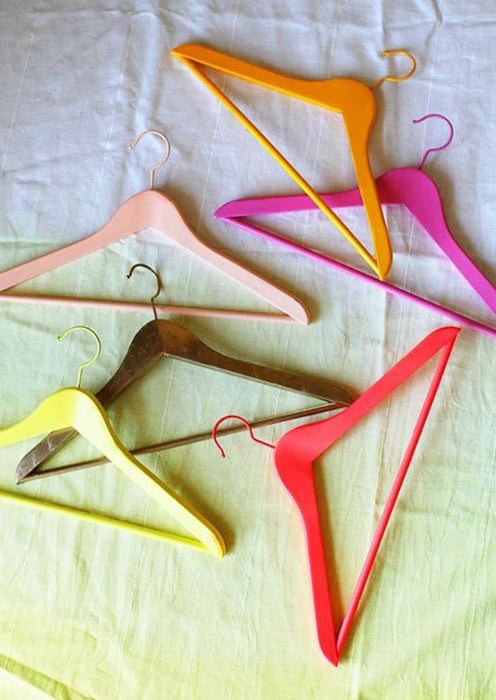 Another way of sorting clothes is using colored hangers. For example, office outfits can be hung on green hangers, casual clothes – on blue hangers and evening dresses and suits – on pink ones.
6. Adding a second hanging rod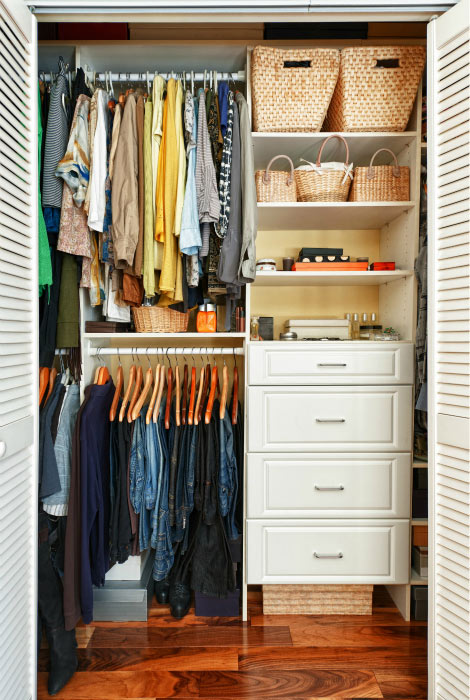 Buying a new wardrobe, first and foremost, pay attention to its height and choose the tallest that you can afford. To increase the capacity of any wardrobe, you may get a second hanging rod. Then, you can accommodate dresses, suits, jackets and blouses on the upper bar, and petticoats, jeans, and sweaters – on the lower one.
7. Buying shelves
Shelves can greatly increase the capabilities of a small wardrobe. Most of these shelves are attached like conventional hangers, suitable for storing all kinds of things, from jumpers to handbags.
8. Hanging boots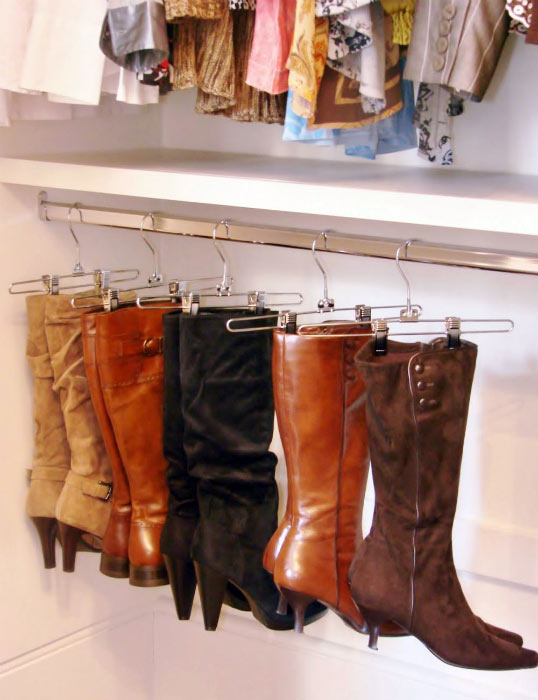 For your high winter boots not to take up much space and avoid wrinkling in boxes, keep them hung on a separate rod or railing, attached to the bottom of the wardrobe. Metal hangers with clothespins are best for storing boots.
9. Hanging bras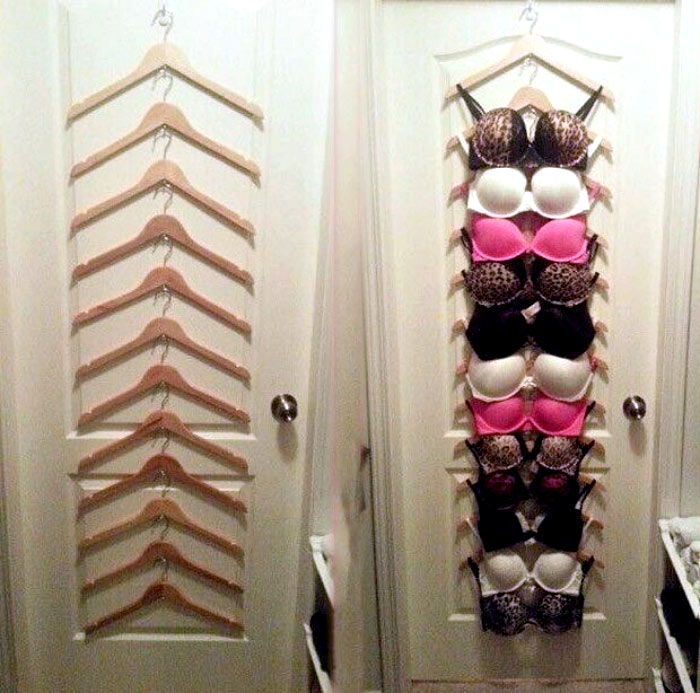 A bra is an essential item in the wardrobe of any grown-up girl. You can place an impressive collection of bras on regular hangers attached to the wardrobe door or a dressing room.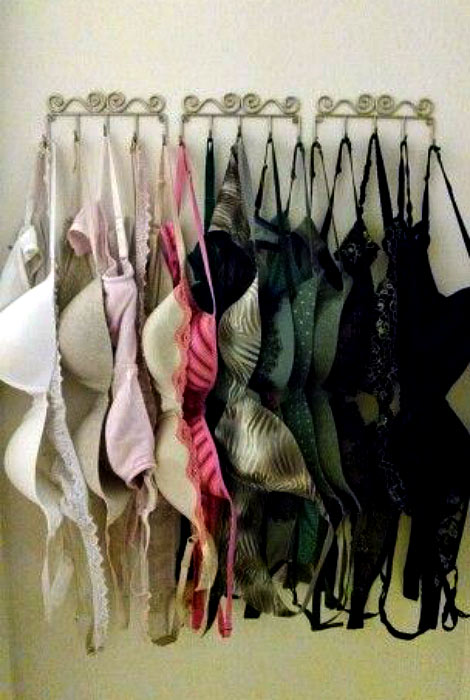 This trick will allow you to always have the right model at hand and in sight.
10. Clothes stand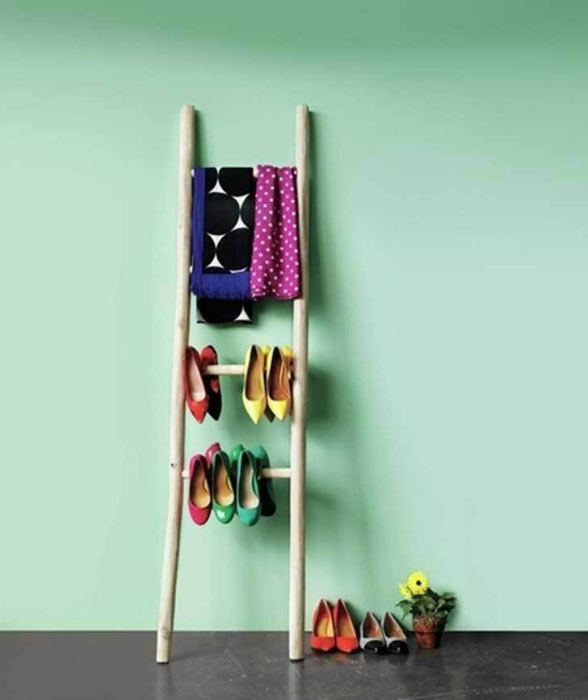 In addition to a wardrobe, it would be nice to get a clothes stand, which you can buy or even make with your own hands. It can be used for storing scarves, hats, bags and clothes, which you have prepared, for example, for the following day.
11. Packing seasonal clothes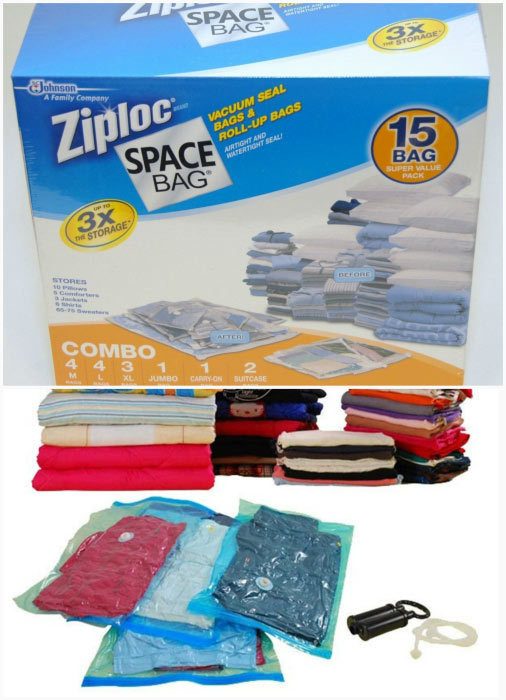 Don't forget to wash and fold seasonal clothes. This will keep them clean and tidy until they are needed again. Ideally, such clothes should be removed from the wardrobe and put in plastic bags with a lock. If this is not possible, leave one shelf for seasonal clothing, packed in sealed bags.
12. Buying cheap containers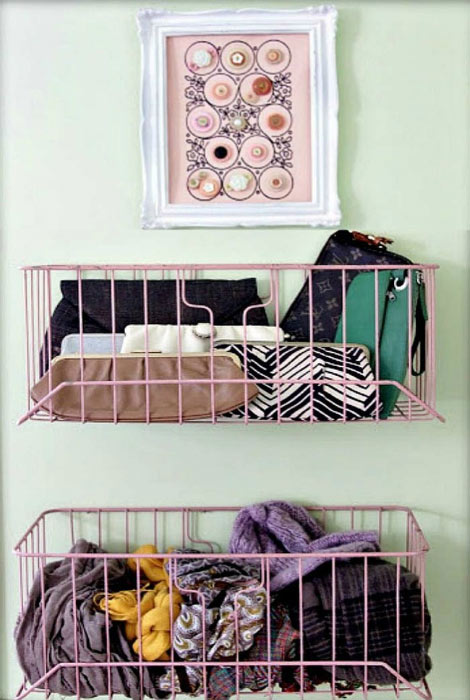 Buy cheap wire or plastic containers and use them for storing scarves, hats, socks, handbags or gloves. Such containers may be attached to one of the outer walls of a wardrobe or to the door, so that you have the frequently worn things always at hand.
13. An organizer for underwear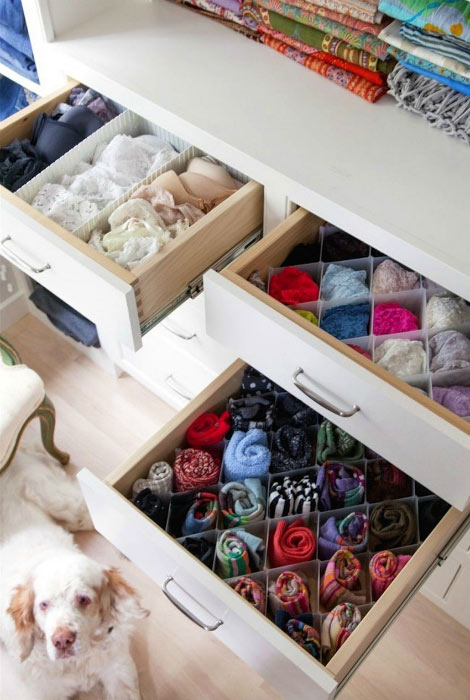 You can sort out your underwear, socks and tights with the help of special organizers that you can purchase or make with your own hands, dividing the drawers into cells with strips of cardboard. This trick will allow you to save space in the drawers and always keep them in order.
14. Using shoe boxes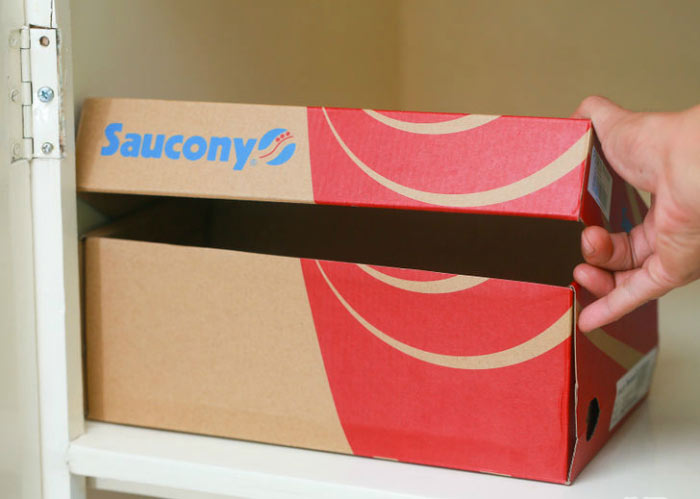 Empty shoe boxes can be used for storing documents, books, small seasonal items, accessories, scarves, gloves and other trifles, which do not fit on the shelves of the wardrobe. For your convenience, you can mark the boxes and store them at the bottom of the wardrobe, under the bed or in any other secluded spot.
15. Hooks
Attach a few ordinary hooks onto a free wall of the wardrobe and use them to store bags, headpieces, or the clothes prepared for the following day. By the way, you can hang a few hooks inside of the wardrobe.
16. Hanging organizers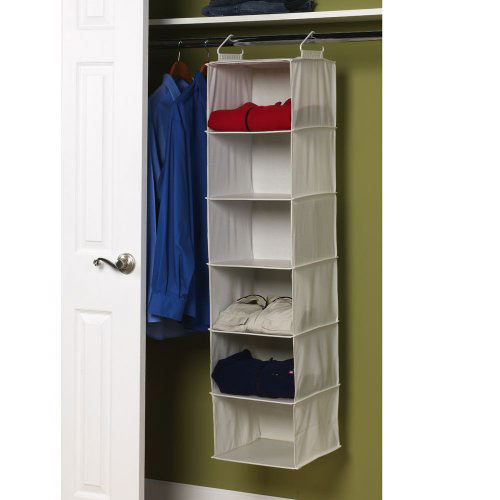 To unload the shelves of a small wardrobe or chest of drawers, you may need a hanging organizer that you can buy at a household store.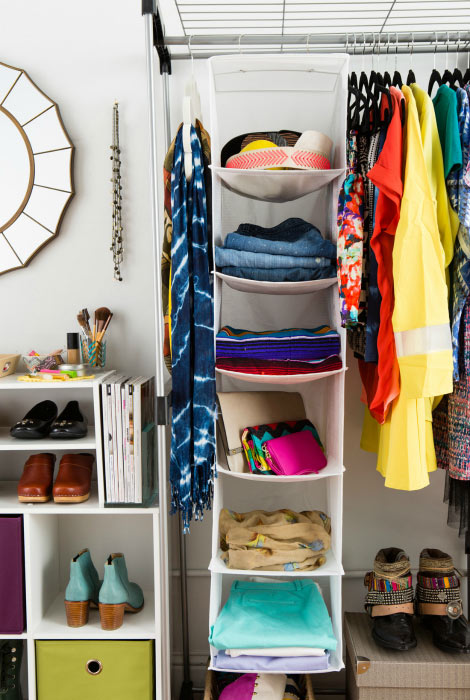 The organizer can be placed on the wardrobe door or on one of its outer walls for storing underwear, socks and tights.
17. Getting rid of odors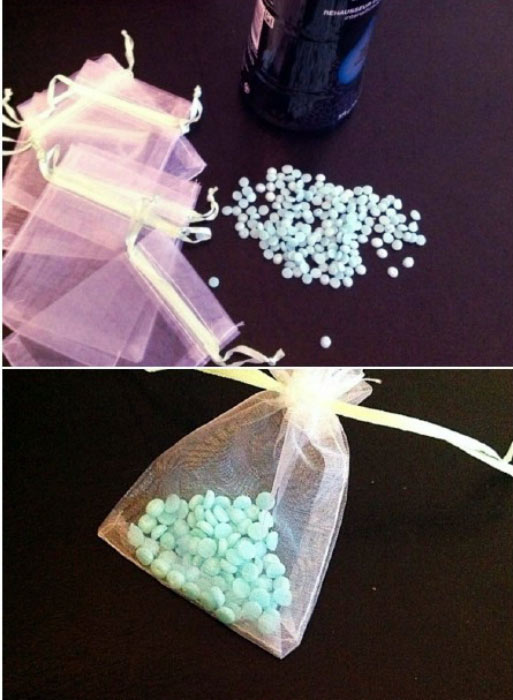 To prevent unpleasant odors in the wardrobe, make it a rule to wash and air it at least twice a year. In addition, do not put the things you've worn a few times back into the wardrobe. In order to retain cleanliness and freshness and prevent moth, put a few pieces of soap wrapped in any unnecessary fabric onto the shelves.
18. Storing detergents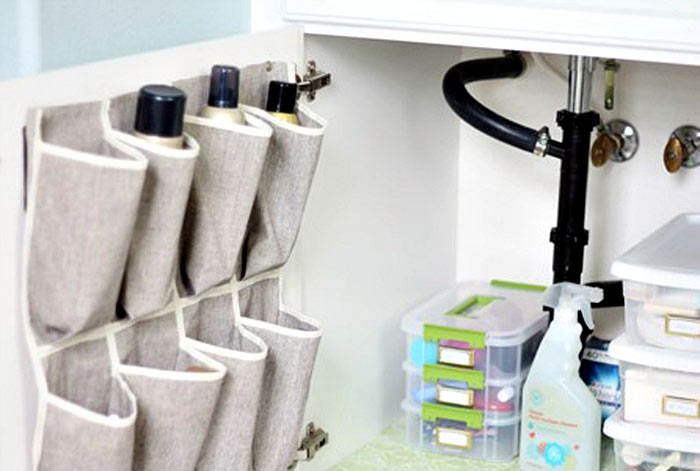 To increase the capabilities of a small bath, you can make use of an ordinary shoe organizer. Simply cut a small part of it and attach to the inside of the closet door. Thus, you will get a few additional compartments for storing cosmetics, detergents or personal care products.
19. Storing pots and pans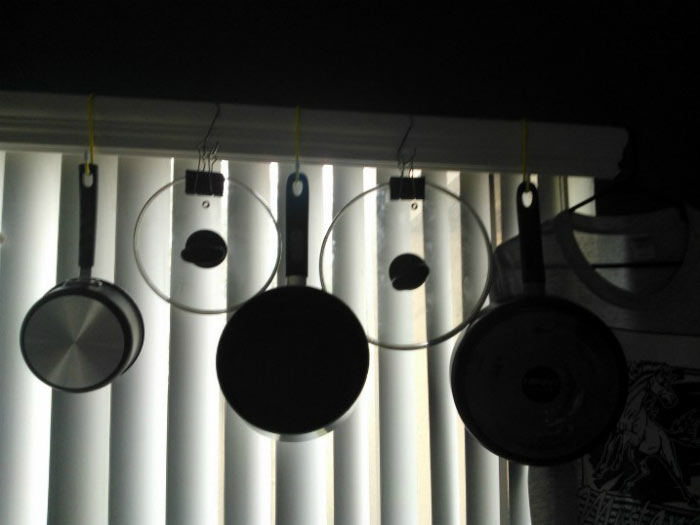 Keeping large dishes in a small kitchen can be very difficult. In such a situation, you should use space as effectively as possible. For example, attach a few hooks to the eaves and use them for storing massive pots and pans.