It's over four years that Cameron Diaz, 38, and Justin Timberlake, 30, went their separate ways, but work brought them together again as they acted against one another on Bad Teacher. A tricky get-together, since back then Timberlake was up to his eyes in a relationship with Jessica Biel (broken up in March).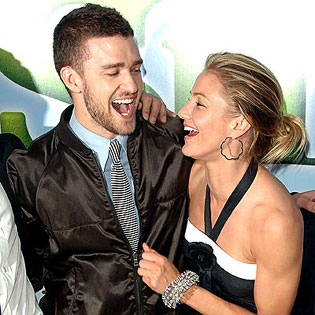 Now Diaz recounted her experience of working alongside her former beau Wednesday when she was at the Coliseum at Caesars Palace in Las Vegas, receiving the CinemaCon Female Star of the Year Award She claims to UsMagazine there was no need at all to be antsy over it – on the contrary!
Diaz is sure her three-year-long flame was a perfect choice for the role in the dark comedy. Fun and laughter was a bond they had shared during their affair, and the flick was a great chance to relive the mirthful atmosphere – which came off well.
The actress, whatever she may think of Timberlake's personal traits, is enthusiastic about the acting abilities of the pop singer, whom she regards as a talented performer and "a genius comedian." His hilarity and eccentric approach make him stand alone, or, as Diaz puts it, "he's frickin' weird in movies." Also she said that she related to everything he had done.
As for any possible romantic ramifications of being on the same cast with her ex, the Knight and Day star – who is dating the New York Yankees baseball player Alex Rodriguez – said there had been nothing that strayed outside just working together condition. It was a clear-cut case of doing their bits and having fun doing it, and going to different directions afterwards. But they are coming together again for the premiere.
Touching upon the topic of her ever fabulous body, the UsMagazine wanted to learn how she manages to stay in shape. She shared she does it on the floor with all kinds of leg weights and leg lifts in what she calls her "horizontal workout."
And eating. Her constitution requires eating every few hours if she wants to feel fine. Although Diaz sees to it that she gets a lot of protein from fish, all kinds of meat, eggs, she also keeps her food wholesome with brown rice, whole grain foods and vegetables.
Source of the image: Makeushot.