They say everything is possible, and here is another proof that the saying may well be true – a photo of Victoria Beckham wearing flats. No tricks, the fashionista was really seen strutting about Hollywood last week in black flats, her signature stilettos cast aside at home.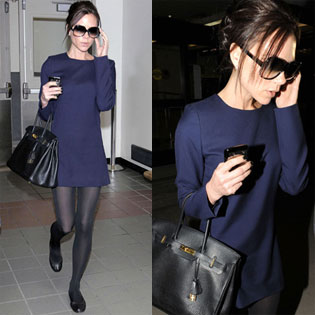 Beckham's rep ventured no comment when approached to explain the miracle, but PEOPLE got it from a source that the designer has good reasons to keep off heels: a slipped disk in her back. While it's healing, the former Posh Spice will have to resign herself to flats.
Will she still have to when New York Fashion Week starts? It's an open question, said the source. Of course heels will prove a strain on the damaged area, but as things are progressing, she may feel up to donning heels when the time comes.
Anyhow, Beckham is still on the top of her form, birth or no birth, and her admirers are there with recovery wishes. Last week she thanked them for their kind wishes on her Twitter page, adding that she was getting better fast and enjoyed being with the newborn daughter, Harper.
Source of the image: Fabsugar.