The Cougar Town male star Josh Hopkins, 40, and Jennifer Aniston, 41, hooked up in May (a story courtesy of UsWeekly runs) brought together by Courteney Cox, Hopkins's romantic interest on the ABC comedy series. An inside source spilled that Aniston was soon ready to push forward to a closer relationship but found her advances blocked.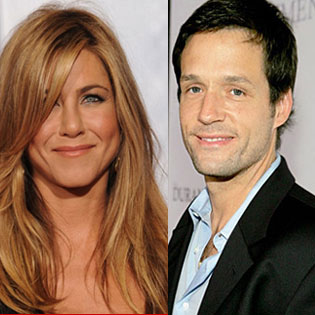 The insider hinted that it was a pre-ordained development since Hopkins is "a player" and a liar who goes for younger girls.
Their dinner date at West Hollywood's Madeo in the beginning of September that drew more attention to their relationship and was judged as flirty by onlookers was actually their last, a source close to Hopkins shared.
He added that all along Hopkins looked on Aniston as a "sport f–k," and the name of their game was "friends with benefits." The actor, when asked by Us about the dinner date, also said they were "just friends", though never mentioning benefits.
He had been just as elusive about his rumored romantic involvement with Brad Pitt's ex-wife, while Aniston had been quite open about her John Mayer episode.
Another source tells Us that the actress took it in her stride – for she is satisfied with the course her life is running along.
Source of the image: Fadedblog.wordpress.