For those who have to solve a problem of getting round with mobile gadgets yet having their typing/keyboard controlling done in full comfort, there's a new keyboard out. It's a typical QWERTY affair of a size of 306 x 114mm and you won't have to squint at it. It's flexible, which allows for it, once out of use, to be rolled up and tucked away into a bag. Only the material is not silicone, but fabric, providing for a better roll-up ability and maybe making it more pleasant to the touch. Naturally, it's wireless.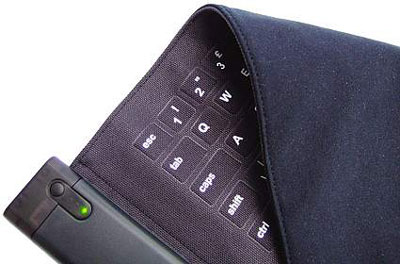 A great alternative to using a keypad or a touchscreen virtual keyboard, when not needed, it measures 126 x 48 x 32 mm and weighs less than 70 grams, which is less than your average cell phone.
The fabric keyboard, to be obtained for $29.99, comes with two AAA batteries, a nylon pouch case and phone accessories like a phone stand. It is connected to a PC or a mobile device via Bluetooth. Somehow iPhone support got left out, and you'll have to see just how practicable the innovation is for you personally, but the overall idea sounds really cool.
Source of the image: Thg.