Main documents with general information printed out for a quick once-over, and all the detailed stuff, video presentations and auxiliary information like enhanced electronic business cards (that may add up to a very bulky envelope if carried on paper) are clipped on on a USB drive for a careful perusal on your PC.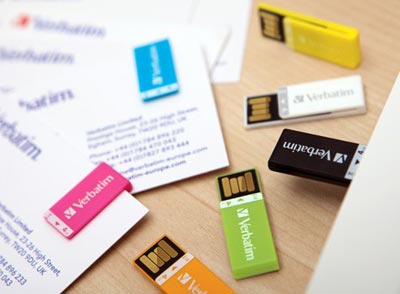 That is the idea behind the new Verbatim Store n'Go Clip-it USB Drive that can work as an eye-catching and handy paper clip at the same time.
After it has been with us for a while it may turn out, of course, that the only document that really needs printing is the list of materials stored on the Clip-it, but we'll have to run off a couple more documents for the new drive not to look a bit out of place. Anyhow – as soon as we get the complete information on the price and availability – it looks good enough to give it a try.
Verbatim Store n'Go Clip-it USB Drive is offered in seven bright colors and 2 or 4GB capacities.
Source of the image: Engadget.