Vacheron Constantin's new watch collection is expected to hit the stores soon. It is designed using the ancient Japanese lacquer technique called maki-e, and the series will bear the name of "Métiers d'Art La symbolique des laques Maki-e".
The series will stretch out over several years with twenty absolutely unique watches turned out yearly.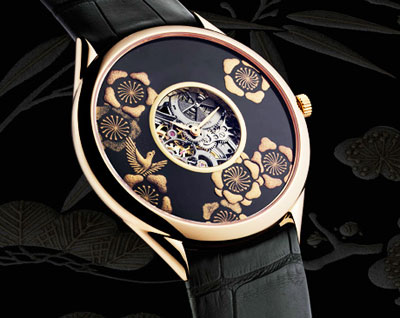 This year begins with the Vacheron Constantin Japanese Lacquer set of watches that will be called "The Three Friends of Winter", symbolizing endurance and ability to hold on through whatever rigors the fate may hold in store. The friends are a tree and a bird exquisitely blended on the image – the Pine Tree and Crane Watch, the Bamboo and Sparrow Watch and the Plum Tree and Nightingale Watch, each supplied with a name in Japanese.
The Three Friends will be made using 1003, 14K white gold hollow mechanical movement, competing with the world's thinnest mechanical works. The marvel of the horological gear pattern is made visible through the cutaway in the center with the pictorial beauty encircling it. The watches are manually-wound.
For the sake of the authenticity of the Maki-e part Vacheron Constantin cooperates with Japan, going outside Geneva for the first time during the whole period of its existence.
Source of the image: Luxuo.com.