Meaning to save you a small trouble that is apt to be forgotten or be a constant reminder about the transience of time, turn you onto a philosophical frame of mind or make you hurry with the affairs at hand, Stihl designed a perfect schwag for us to better mind the run of the days. Whatever the meaning of this word, for us schwag is the company nickname for what is officially known as the Stihl Autumn Calendar 2010.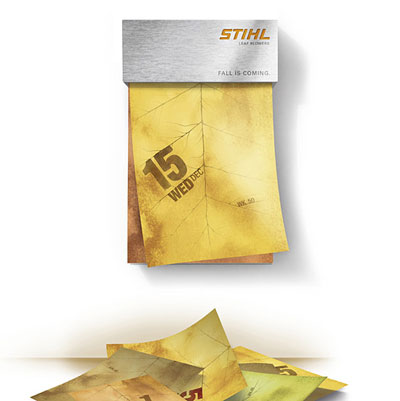 What it does in terms of philosophy or litter is shed each leaf of the day that passed, sending it to float freely down to land somewhere on your carpet. It does look very autumnal and if you let the leaves collect under the schwag it may even look very much winterish.
If you like this seasonal approach to your time we are sorry to inform you that you won't be able to purchase the Autumn Calendar – it was designed by Stihl's agency, Euro RSCG of Duesseldorf, Germany, as a giveaway keepsake.
While you are thinking how you can come by one anyway, see how it works on the video to the background of Vivaldi's Autumn.
Source of the image: Dvice.com