Elva Hsiao, Taiwanese pop diva, is releasing her new album next month, and hectic preparations are underfoot. In particular those connected with creation of her new image which has already put her back a whacky $35,000. Five stylists carefully picked out by her management company are sweating to deck her out in a totally new way.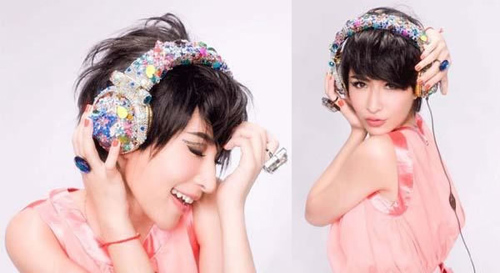 There is not a thing to remain untouched, even her headphones. This fresh accessory of hers costs not a cent less than $9,000 – because it is pasted all over with diamonds and other pieces of jewelry!
Elva herself worked with her stylists to turn out the accessory. Had she realized what she was sticking out her head for?
Now she knows. "Pasting all these onto the headphones has increased its weight to more than 1kg. After wearing it for more than five minutes during the photoshoot, my whole head felt heavy and my feet felt light. I started to get dizzy spells!"
Her new hairdo is another thing that she revels in. "I feel as if I am back to the little boy look I had in junior school. I think this hairstyle enhances my stylish look and will mesmerize a lot of girls!"
Source of the image: luxuo.com.