Among HP's fresh bunch of laptop computers the HP Mini 110 by Studio Tord Boontje stands alone. It is a beautiful designer thing sporting the 3D PC Surface Technology. The mini laptop is enticingly done over in effigies of plants and animals drawn by the Dutch designer; the central image is given a floating effect due to multiple layers while the other elements acquire depth. This technology is known as HP Imprint 3-D.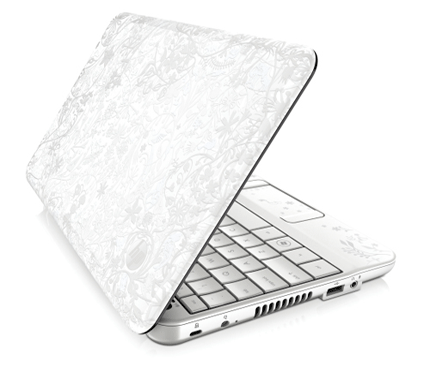 The packaging is designed to match the cover through the use of soy-based and water-based inks, and some other elements are adorned accordingly. Only 100% recycled materials are used for the cushions and the box. To complete the environment-friendly concept of the mini, a PVC-free wireless mouse and the included handbag are made from natural materials.
To move on beyond appearances, the HP Mini 110 by Studio Tord Boontje is only one inch thick and weighs 2.68 pounds. Though a mini, it provides decent comfort with a 10.1-inch mercury-free LED display and a full-size keyboard.
It has Windows 7 Starter operating system installed with Windows Live Writer icon for ardent bloggers, who get access to a number of popular web sites straight from the desktop. 15 wallpapers, an engaging screen saver, and the Stardock MyColors desktop theme constitute further beauty elements.
The beautiful mini will hit the market on October 18, retailing for $399.
Source of the image: ladiesgadgets.com.