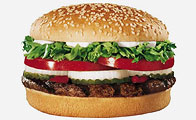 Contemporary chemical industry is able to re-create any smell. Using the latest scientific achievements, the fast food chain Burger King launches new body spray for men that smells like hamburger. Users will smell with "the scent of seduction with the hint of flame-broiled meat".
The new body spray is available at New York stores for $4. Flame has already become the best-selling body spray. It seems users like to smell like they are just out of fast-food restaurant kitchen.
Burger King is also planning to launch a body spray for women. You can easily guess it is going to smell like fresh French fries. I'll add here that Burger King's Flame is inspired by Whooper – the most popular Burger King sandwich in America.