Madonna actively promotes her new film called "W.E." and can already present the trailer of the movie. It will be interesting to see how the famous singer used her directing genius to bind two different stories together.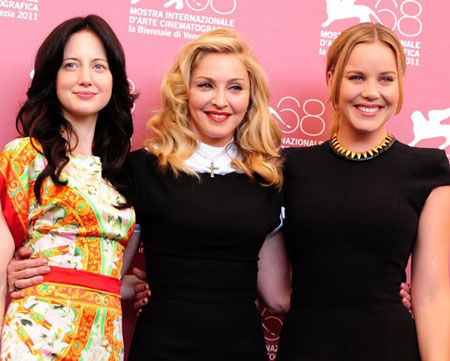 It is worth mentioning that the movie is about the two women, whose lives are seemingly unrelated to each other. Lonely Wally Winthrop (Abbie Cornish) is surprised to plunge herself into the world of a mysterious love story of the King of Great Britain, Edward VIII (James D'Arcy) and the American divorcee Wallis Simpson (Andrea Riseborough) who was the reson for Edward to abdicate.
The story, which occurred many years ago, begins to affect the life of a modern girl, and she starts her own investigation. It turns out that not everything was as smooth as assumed in the fabulous love affair. The action develops in two time layers, and the viewers will be able to fully enjoy the gorgeous dresses of the 1920-s and the atmosphere of aristocratic luxury.
The critics say that the film fans will get a dubious pleasure after watching the movie: the film was unanimously recognized as a failure at the Venice Film Festival where its world premiere took place. However, neither Madonna nor her fans were disappointed. Energetic Louise Ciccone is confident of the film's promising future (nobody doubts the singer's ability to make money), and it will surely be a hit with the public. In Toronto, the audience admired the picture, and it is expected to be successful at the London Film Festival too.
And what about you? Do you want to watch Madonna's movie after seeing the trailer?
Source of the image: Hardcandymusic.