This weekend Latvian capitol Riga's streets saw a different kind of parade with hundreds of Latvian blondes marching along.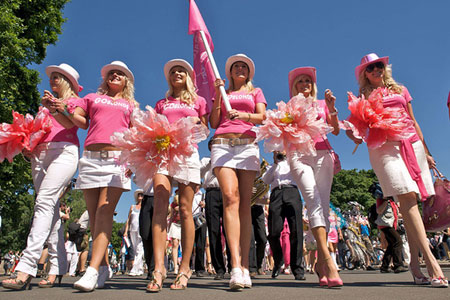 About 800 blondes looking ravishingly feminine in pink attires and high-heeled shoes made their way through the city with the sole aim of taking people's minds off their sad economic situation away to brighter realms.
It marks the second year of existence of the "Go Blonde" event that was set up to break the heavy pall of economic recession that is pressing down on the country's morale, according to the organizers.
The 'Latvian Association Of Blondes' spokesperson underscored that blondes may well be looked upon as Latvia's national staple.
"Last year's parade, this year's festival and next year's carnival have and will make a substantial contribution toward Latvia's tourism sector," the spokesperson added.
"Go Blonde will soon be as important a project for Latvia as the carnivals in Brazil and Italy which are of great interest to thousands of tourists."
The two-day festival also featured various concerts and a competition for Marilyn Monroe's double-ganger.
There is no information of whether Latvia's brunettes are going to follow suit and establish a similar organization.
Source of the image: S-ak.buzzfed.com.