Baku, Azerbaijan – The first Semi-Final of the 2012 Eurovision Song Contest, Europe's greatest yearly music TV show, has taken place tonight – for the first time in Azerbaijan. It was broadcast live from the Baku Crystal Hall, where 18 countries competed for just 10 places in the Eurovision Final. The viewers of 21 countries have voted for their favorites. Together with the professional jury, they decided the ten qualifiers that will proceed in the music battle in the Eurovision Final. The overview of the long-awaited musical event is given below.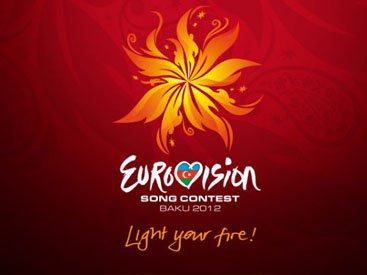 1. Rambo Amadeus – Euro Neuro – Montenegro
Rambo Amadeus from Montenegro was honored to open the musical event. This singer is a true cult figure in his own country. Fans love him for the humor that is part of the singer's creative activity. Interesting texts spiced with satire are his strong point. His 2012 Eurovision entry, Euro Neuro, is also full of ironic wit. Rambo Amadeus held himself naturally and freely on stage and surely made everyone smile.
2. Greta Salóme & Jónsi – Never Forget – Iceland
Iceland was represented by a great duet of Greta Salóme – a young talented singer, songwriter, and violinist – and Jónsi, who returned to Eurovision after his performance in 2004 in Istanbul. Their lyrical ballad Never Forget touched the hearts of the audience. At the song's climactic moment, Greta Salome even played the violin. The audience went frantic after the performance.
3. Eleftheria Eleftheriou – Aphrodisiac – Greece
Eleftheria Eleftheriou took turn to perform with her energetic dance track Aphrodisiac. This talented young singer came onto big stage after the X-Factor talent show and became popular at once. Everything was beautifully combined in her performance – the music, choreography, flashlights. It was impossible not to "dance like a maniac" during this little show on the Eurovision stage.
4. Anmary – Beautiful Song – Latvia
Right away Anmary from Latvia performed her Beautiful Song telling the story of a girl who dreamt about life as a superstar. Anmary has a rich music experience, as the singer has taken part in a variety of musical projects. She has also been the lead vocalist for the groups Sunny Sense and Mash Mash. Today Anmary works as a vocal coach and singer. The singer demonstrated her vocal mastery to the Eurovision 2012 viewers who eagerly supported her throughout the performance.
5. Rona Nishliu – Suus – Albania
Rona Nishliu represented Albania with a soulful ballad Suus. This talented lady is not only a famous singer but also a brilliant jazz musician. Rona Nishliu performed alone but she filled the whole stage. The quality of her voice, her vocal range and the specter of emotions she expressed gave the listeners goosebumps and an overwhelming sense of delight.
6. Mandinga – Zaleilah – Romania
Mandinga from Romania – the best latino band in their own country – gave a spectacular stage show in Baku. This band, heavily influenced by latin sounding and bright costumes, filled the the Baku Crystal Hall with amazing energy. Their song Zaleilah is a unique mix of Cuban and Romanian sounds. White costumes and national musical instruments created an unforgettable image.
7. Sinplus – Unbreakable – Switzerland
Brothers Ivan and Gabriel Broggini, known as the duet Sinplus, were next to perform. They represented Switzerland at the Song Contest. These two dreamt of becoming musicians from the very childhood. As teenagers, they already played in their own bands and practiced in their father's practice room for hours. At the first semi-final Sinplus performed a rock song Unbreakable, calling the listeners to "swim against the stream" and follow their "wildest dream".
8. Iris – Would You? – Belgium
When Iris from Belgium entered the Eurovision stage, she filled the hall with youthful tenderness and enchanted everyone with a fresh look and a wonderful voice. She is only 17 and the youngest participant, but nevertheless she looked as a strong competitor. The young lady managed to give Europe an unforgettable show. As her voice flowed smoothly, the lights on the staged glowed in calm blue and violet, creating a romantic atmosphere.
9. Pernilla – När Jag Blundar – Finland
Finland was the next to perform. A sparklingly cheerful young lady with a strong and emotional voice, Pernilla, sang the song När Jag Blundar. By the way, it was written for her mother. The singer deeply relates to the lyrics. Her song expresses gratitude for mother's understanding and love. Pernilla's performance looked complete, despite the fact there weren't any dancers or special effects on the stage.
10. Izabo – Time – Israel
The alternative pop band Izabo from Israel are described as a unique combination of Disco, Punk, Psychadelic Rock and Arabic spices. At the semi-final they performed the song Time. Their hairstyle and costumes looked a little freaky, though original. The images of clocks at the background emphasized the main idea of the song – the flow of time.
11. Valentina Monetta – The Social Network Song (Oh Oh – Uh – Oh Oh) – San Marino
Valentina Monetta from San Marino sang about people's addiction to Internet services and social networking in her song The Social Network Song (Oh Oh – Uh – Oh – Oh). Actually, the singer's participation in the Eurovision is a lucky occurrence. The SMtv director heard her performance by chance and decided she was just what they needed. A light catchy tune, flashlights and choreography merged into a single entity creating a carefree attitude and a joyful mood.
12. Ivi Adamou – La La Love – Cyprus
Another young participant – the 18-year-old Ivi Adamou from Cyprus really set the stage on fire by her explosive track La La Love. A cleverly organized choreographic performance plus Ivi's great vocal potential and a powerful character made this performance one of the brightest at the first Semi-Final of the Eurovision Song Contest 2012.
13. Soluna Samay – Should've Known Better – Denmark
Then Soluna Samay from Denmark appeared on stage performing her song Should've Known Better. Soluna started singing at the age of 6, performing in the streets to help her father make a living. At the age of 10 Soluna was already writing her first songs. Her band consists of musicians of different nationalities – Soluna says it makes her feel as a world citizen. What a pleasant and loveable performance!
14. Buranovskiye Babushki – Party For Everybody – Russia
One of the most original performances of the first Semi-Final was Russia's entry – Party for Everybody by Buranovskiye Babushki, a group of "grannies" from Udmurtia in Russia. They are the eldest participants of the show. The grannies became popular for covering Russian and Western famous songs. At the national selection the grannies even won over the former Eurovision winner Dima Bilan, so they intended to conquer Europe with their unique style.
15. Compact Disco – Sound Of Our Hearts – Hungary
The band Compact Disco from Hungary picked up the baton from Russia and continued the show. These musicians have been performing together since 2005, but their first album was released only 4 years later. Nevertheless, they are now one of the most popular bands in Hungary. Their entry Sound of Our Hearts was warmly welcomed by the audience.
16. Trackshittaz – Woki Mit Deim Popo – Austria
Tractor gangster party rap – the peculiar style from Lukas Plöchl and Manuel Hoffelner who make up the band Trackshittaz from Austria – continued the Semi-Final. Pole dancers in bright costumes with neon insets, the singers' youthful impetuosity and their energetic song Woki Mit Deim Popo made the audience cheer like mad.
17. Pasha Parfeny – Lăutar – Moldova
Pasha Parfeny, a talented singer from Moldova and a winner of numerous music contests, represented his country with the song Lăutar. Born in a family of a piano teacher and a singer, Pasha could not have chosen another path in life. That is why he looks so natural while performing – he probably inherited love for stage, and stage loves him in return! The dance pop song with national tunes was to everyone's liking, if to judge by the applause.
18. Jedward – Waterline – Ireland
Everyone was eager to see Jedward from Ireland on the Eurovision stage again, so the hall went mad as soon as these two freaky brothers appeared. We remind you that last year these Irish brothers tried to conquer the Eurovision audience and finished eighth – the best result in the history of Ireland's participation in the Song Contest. This year's song Waterline is no worse that last year's Lipstick. The brothers' costumes and hairstyle were out of this world, as usual. And there even was a fountain on the stage. Wow! What else can we say?
Eurovision 2012 Semi-Final (1) Winners
Here is the list of the winners of the 2012 Eurovision Song Contest first Semi-Final, who have gained their places in the Final of the Contest:
Romania
Moldova
Iceland
Hungary
Denmark
Albania
Cyprus
Greece
Russia
Ireland