Oslo, Norway – The second Semi-Final of the 2010 Eurovision Song Contest, Europe's largest and most favorite music TV show, is over. 17 participants stepped down on stage at Telenor Arena in Bærum, Norway, a suburb of Oslo to compete for televotes from around Europe and votes by professional jury. Check out how the show was unfolding.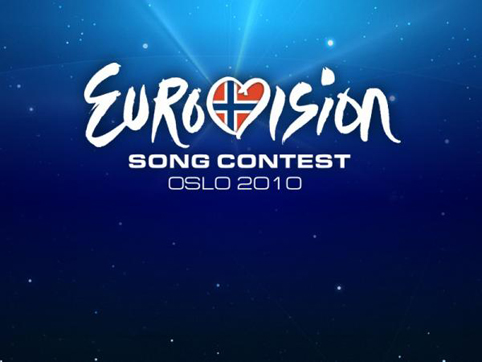 Free-swinging band from Lithuania, InCulto, opened the show with their funny Eastern European Funk song. They wowed the audience at the end of its act as they removed their pants, revealing boxer shorts. That was a lot of fun!
Second to perform was Eva Rivas from Armenia. Her song, Apricot Stone, was far more serious. She dedicated her song to her motherland that is symbolized by an apricot stone. Apricot stone was even on stage, out of which an apricot tree started to grow!
After the storm of the first two acts, Harel Skaat's song Milim was much quieter. But the emotional intensity of Israeli performer voice was in no way weaker. We will see Harel in the Final.
The Danish duo wanted to be closer to the audience – midway through the act, they used the catwalk and finished their song in the middle of the crowd. Danish entry won hearts of televoters, too.
Next in line was Michael von der Heide from Switzerland with Il Pleut De L'Or. Everything about Michael, from his golden suit and a bit detached stage attitude, had an effect of the 80-s pop scene.
Anna Bergendahl from Sweden proved that solo performance without any props or visual effects has its special charm. The Telenor Arena fell silent listening to her hopeful acoustic ballad.
When Safura from Azerbaijan finished her song the arena exploded into thunderous cheers. With her long blue dress waiving in the air of the wind machine, Safura looked magnificent!
Alyosha from Ukraine performed alone stage. Like Anna Bergendahl, she used the minimum of visuals. The biggest effect was her tremendously strong voice. And with this she convincingly delivered a message for greener planet.
The next was Sieneke from Netherlands. She chose sort of happy and positive song that made everyone smile. Sieneke also had puppet actors on stage, which added to circus-inspired act.
Paula Seling & Ovi, Romanian entry, set the stage afire. Their performance was accompanied by lots of pyrotechnical effects to fit the title of the song, Paying With Fire.
Slovenia's entry surprised the audience by experimenting as they blended folk music's charm and wild energy of rock music together. So were their outfits, a combination of traditional Slovenian costumes and rock style.
Ireland was seen as one of the favorites of this year's Eurovision Song Contest. The country is represented by Niamh Kavanagh who already won the Eurovision show back in 1993. Today her beautiful ballad It's for You also headed for the final!
Can angels be sexy? Well, Miro's backing dancers definitely can. And Bulgarian pop singer was as sexy on stage.
International band, John Lilygreen & The Islanders, that represented Cyprus chose to be simple and relaxed. Their Life Looks Better in Spring was a kind of song to simply sit down and enjoy the lyrics. It was a very nice listen.
Croatia tried to impress televoters with three lovely fairies, the girlband Feminnem. Their performance meant to symbolize the fight between good and evil.
Gorgeous Sofia Nizharadze from Georgia performed almost by the end of the show. Her lovely, heart-felt song Shine moved thousands of viewers from around Europe. It will be exciting to see Sofia in the Final.
Turkish rockers were closing the show. MaNga got the crowd from the very first note and kept it galvanized to the end. There was a cyborg girl on stage stripping off her robot clothes and gradually becoming a human.
At the end of the show, the ten wining countries were announced in random order by opening virtual envelopes on the screen.
Eurovision Semi-Final Winners
Here is the complete list of the first semi-final winners:
Georgia
Ukraine
Turkey
Israel
Ireland
Cyprus
Azerbaijan
Romania
Armenia
Denmark
You can also read about the First Semi-Final Results of Eurovision 2010.
The Final will take place on May 29. Stay tuned to geniusbeauty.com for the latest results and reviews.