Oslo, Norway – The first Semi-Final of the 2010 Eurovision Song Contest, Europe's largest and most favorite music TV show, is over. 17 participants stepped down on stage at the center of Telenor Arena in Bærum, Norway, a suburb of Oslo to compete for televotes from around Europe and votes by professional jury. Below is a brief review of the show as it was happening.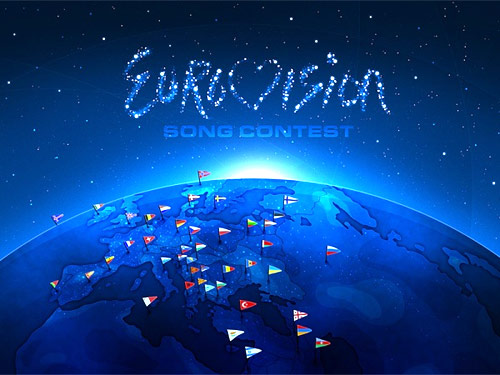 The show was opened by Sunstroke Project & Olia Tira from Moldavia, who rocked the arena with their hot and fashionable performance. The first act is always the hardest and scariest, but by the end of voting the band was jumping for joy!
They were followed by one of the favorites of this year's contest Peter Nalitch & Friends from Russia with a love song Lost and Forgotten. Peter Nalitch shot to fame through YouTube and is well known outside Russia.
Eurovision Song Contest imposes no restrictions on the music genre, spanning everything from pop to jazz and rock music. Malcolm Lincoln from Estonia seemed to combine every style out there to produce a funk-electro-synth song for this year's Eurovision.
Many participants, however, were more tradition-oriented, drawing on folk music, outfits and dancing. So did Kristina Pelakova from Slovakia. She also chose to sing her song in her native language.
The blonde duo from Finland, Moon Whispers, proceeded with contemporary folk theme. They performed barefoot in their native language and one of them, Susan, played accordion.
Aisha, a young singer from Latvia, was having a lot of press before the semi-final. Aisha delivered a very heart-felt performance of her ballad What For.
Milan Stanković from Serbia was definitely one of the most distinctively dressed artists at the first semi-finals. He got himself noticed with televoters alright.
Red-jacketed, Vukašin Brajić from Bosnia & Herzegovina was less eccentric in dressing style but his performance really rocked and won him a chance at the Final.
Act number nine, Marcin Mrozinski from Poland, who is indeed an actor and singer, gave the audience a truly theatrical performance, but that wasn't enough to proceed.
Tom Dice from Belgium stepped on the stage alone, just with his guitar. Actually, his song is called Me and My Guitar. The guy seemed to enchant the audience by his melodic voice and dreamy lyrics.
Thea Garrett who represented Malta was probably next to Milan Stanković in the way she looked on stage. And her ballad My Dream was a nice listen.
Juliana Pasha from Albania was non-stoppable on stage. Her 3 minute long dance floor scorcher It's All About You brought the house down.
Giorgos Alkaios from Greece gave the audience one of the most energetic and professional performances. With chart appearance in different countries and having fans across Europe, Giorgos Alkaios is definitely one of the favorites at this year's show.
Portugal will be remembered by a wonderful voice of Filipa Azevedo who sang a ballad in her native language, Há Dias Assim. Actually, we will see Filipa Azevedo again, performing at the Final!
Gjoko Taneski from Macedonia and his dancing team showed off one of the hottest performances at the first semi-final. Unfortunately, it wasn't enough for Macedonia to make it to the Final.
There is an odd belief that an orchestrated ballad can't win at the Eurovision. But Look at Belarusian band 3+2 with their amazing ballad Butterflies. Their act was a great fusion of vocal prowess and outstanding stage performance.
Hera Björk from cold Iceland melted hearts of televoters across Europe with her vibrant performance of Je Ne Sais Quoi. Iceland won its place in the Final the very last minute as Hera Björk was last to be named among 10 qualifiers.
Eurovision Semi-Final Winners
Here is the complete list of the first semi-final winners:
Bosnia & Herzegovina
Moldova
Russia
Greece
Portugal
Belarus
Serbia
Belgium
Albania
Iceland
The second semi-final will take place on May 27. Stay tuned to geniusbeauty.com for the latest results and reviews.